In a sport where big money and cheap talk often count for more than delivery and performance, the Overlord gelding Talktothestars' bold and brave victory in Saturday's R1 million Gr1 Tsogo Sun Sprint will surely go down as one of the most memorable moments of the season.
Vaal-based Coenie de Beer must be South Africa's most underrated Gr1 trainer of the 21st century.
The less than conventional owner-trainer has less frills than an army issue underpants – and refreshingly calls things as he sees it.
With Talktothestars safely following in the two-berth, a jovial De Beer spoke to the Sporting Post en route home through the Free State dorp of Warden.
"We really don't know how good this horse is. And just imagine if he had a decent trainer and a set of alumites," he quipped with a cocktail of humour and humility – and in a playful reference to his widely frowned upon rejection of aluminium shoes.
This was the 57 year old Vryburg horseman's first Gr1 winner – not bad for a guy who pays relative small change for his horses, has less than ten in his string and who fired all farriers ages ago.
He conceded that there were reservations that Talktothestars would find his weight a trainstopper.
"I spoke to the Handicappers and asked them to explain why they gave my horse 6 points after the Computaform and Carry On Alice, who had beaten him, only 4. They rambled on and I never understood their rationale. After this win, I must concede that they may well have been right. I will let them do their jobs – I will do mine – which is winning Gr1 races," he laughed
De Beer said that Talktothestars had the most wonderful temperament.
"In the parade ring before the race, the previous Gr1 presentations were still on the go. Talktothestars just stalked around the ring, focussed on the task at hand. He is an unbelievably professional athlete and has an admirable will to win."
Multiple champion jockey Piere Strydom has not taken long to assert his superiority after a three month injury enforced absence and in under a fortnight has bounced back with five winners from 21 relatively limited riding opportunities – including a double on Saturday, incorporating this welcome Gr1 success. This was his 4997th win since he became a fully-fledged jockey – another 5000 milestone celebration should follow shortly!
Striker has a 100% win rate on the gutsy Talktothestars after he previously won a modest handicap at the Vaal on the Coenie de Beer galloper.
And while the star jock also had his reservations about Talktothestars lumping topweight in a classy field of sprinters, he rode the 4yo with his typical commitment and positivity to produce a dream outcome, storming past fellow Gautenger African Ruler to win easily by 2,25 lengths in a time of 67,41 secs.
Exelero ran on best for third, with the long rested Red Ray partly vindicating the late betting support, when not disgraced in fourth.
The Scott Brothers-bred Talktothestars is a son of one-time record-breaking Aussie yearling Overlord, a son of world champion sire and successful sire-of-sires Danehill, out of a half sister to Royal Academy.
He is out of the one-time winning Spaceship mare, Tellittothestars.
Scott Brothers also bred winner Bold West – when the race was still known as the Gilbeys.
The winner was bought by De Beer for R40 000 in what has turned out to be a bargain package deal from Scott Brothers.
Talktothestars took his stake earnings with Saturday's win to R1 529 575 and has now won 9 races with 5 places from his 23 starts.
In an earlier interview the thrilled trainer recalled how he had secured his good sprinter.

"Talktothestars went through the ring unsold at the National 2yo Sale. I liked him and offered Mr Scott R50 000 for him. But he was in a bad mood that day and turned my offer down. A few months later we did a package deal and Talktothestars was included in it. I knew the family well as I had trained some and they could all run," he said.
We asked if there had been any big money offers for Talktothestars?
"No – and anyway what would I do with all that money without a great horse like this?"
And where to now?
"He pulled up sound as a bell and the manger was empty. We will go back home and possibly return for the Post Merchants. I think that will suit him," said Coenie.
_________
Gr1 Tsogo Sun Sprint (SAf-Gr1)
Scottsville, South Africa, June 4, R1 million, 1200m, turf, good, 1.07.41
1 – TALKTOTHESTARS (SAF), 60.0, b g 4, Overlord (AUS) – Tellittothestars (SAF) by Spaceship (ARG). Owner Mr F C De Beer; Breeder Scott Bros; trainer FC de Beer; jockey P Strydom
2 – African Ruler (SAF), 53.0, b g 3, Trippi (USA) – Chant De Nuit (SAF) by Caesour (USA)
3 – Exelero (SAF), 53.5, b g 5, Western Winter (USA) – Landaulet (SAF) by Badger Land (USA)
Margins: 2.25, 0.15, 0.75
‹ Previous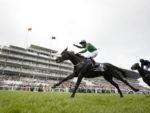 Harzand Wins Investec Derby