As confirmed earlier this week, Karl Zechner is back aboard his SA Triple Crown-winning partner Abashiri for the Vodacom Durban July after Hong Kong-based superstar Dougie Whyte had originally been declared for the ride.

Meanwhile, Abashiri has been allotted the heaviest weight a three-year-old has ever been asked to carry in the big race, 59kg, after the weights were dragged up 2,5kg across the board due to the scratching of Legal Eagle.
Trainer Mike Azzie said, "Dougie said initially he would be able to fly in on the Monday before the race, but the Hong Kong Jockey Club would not release him and he was then going to be able to fly out on the Thursday. However, due to some jockey suspensions he was then required to ride in Hong Kong on the Friday, meaning he would fly out that evening and then catch a connecting flight to Durban on the morning of the July. He has done this sort of thing before and when he told me the jet lag would not affect him I believed him. However, a flight delay anywhere along the line would mean we could end up without a jockey. We have enough pressure on us already to have to add more by running that risk. I am sorry for Dougie, but Karl will be based in Durban for the next two-and-a-half weeks, so will be with the horse every day until the race."
Zechner has partnered Abashiri five times for five victories, including all three legs of the coveted SA Triple Crown. He copped criticism from some quarters for his ride in the last leg, the SA Derby, despite getting the job done and in some people's opinions riding a fine race.
Abashiri's relative weight will not be affected by the dragging up of the weights as all horses' weights will be going up by 2,5kg and the bottom weight will now be 54,5kg.
He will in fact be the only three-year-old in the field who is not under sufferance.
However, Azzie was still concerned about him having to carry the welter burden of 59kg and pointed to horses like Jackson, whom he said was not the same horse after carrying 56kg in the race, while the great Horse Chestnut was scratched when asked to carry too much weight.
Azzie admitted "If I owned Abashiri I would not be running him. I am not saying he can't win the race, we are going to have him fit and well enough, but he has his whole career ahead of him and personally I would have waited for him to strengthen and furnish and bring him back here as a four-year-old."
However, he added it was owner Adriaan Van Vuuren's life-long dream to win the July.
Van Vuuren, who dotes on all of his horses, has shown himself to be one of South African racing's most passionate owners and it is understandable he doesn't want to miss the opportunity of experiencing his beloved Abashiri  running in the country's premier horseracing event.
‹ Previous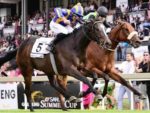 July Entry – Trainer Offers To Gallop