As a racehorse owner, it saddens me to read about and experience the sorry state of affairs that has befallen KZN racing, writes Brian Burnard in the Sporting Post mailbag.

It is a well known fact that the Greyville and Scottsville tracks need urgent attention, and it serves no purpose trying to ' duck and dive ' the issues.
I am also fearful of my horses getting injured ( as are the Jockeys ) but the concerns of owners always fall on deaf ears, and we are expected to keep quiet  and carry on purchasing horses and paying Vet's bills.
The only solution  I can see is for owners to take up the responsibility for their own horses.
It is, after all, the owners who sponsor this amazing sport of horseracing.
To this end I propose forming an Independent  Owners Association in KZN and  interested owners  can contact me at [email protected]
Based on the response from owners hereto, a meeting can be convened to take the matter forward.
‹ Previous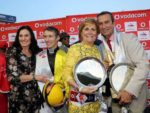 July – Compulsive Viewing