Sean Tarry, having expressed concern during the week about a bacterial infection he believed had been going around his Randjesfontein yard, confirmed all of his remaining Gr 1 runners for Scottsville's big Festival Of Speed meeting this weekend had appeared to be fine.

They had all travelled well down to Summerveld where they have eaten up well and their temperatures were normal.
Tarry said some of the yard's recent Highveld-based runners had been found to have had mucus upon returning from below par runs.
However, tests done at Randjesfontein on the Scottsville Gr 1 contestants revealed only the crack filly Cloth Of Cloud to have been affected by the suspected bacterial infection. She has duly been scratched with the reason given being "respiratory infection."
All six of the remaining Gr 1 contestants were on the float which travelled down to Summerveld on Thursday.
Tarry has the meeting banker in Carry On Alice and was obviously hoping she would be at her best. He elaborated: "Her and all of the others were clear, they seemed fine, so hopefully all is well."
Tarry has two runners in the Gr 1 Tsogo Sun Sprint, Captain's Causeway and Tiger's Touch, and while feeling they were both up to it, he revealed they were actually his second and third choices respectively, because his first choice, Buckland, had been eliminated.
He said, "I don't think the very soft going suited Captain's Causeway last time." The three-year-old was a 1,75 length runner up to Captain Alfredo in the Listed In Full Flight Stakes over 1100m. He continued, "He will be better over 1200m and will enjoy the firmer going."
He added, "Tiger's Touch's last run was a bit close to her run in the mile and was a bit of a flat run." She finished a 3,75 length fifth in the Gr 2 Camelia Stakes for fillies and mares over 1160m at Turffontein, two weeks after finishing a two length fourth to Inara in the Gr 1 Laurie Jaffee Empress Club Stakes over 1600m.
Tarry believes Tiger's Touch is worthy of her 104 merit rating.
Tarry has two runners in the Gr 1 Allan Robertson Championship, Visuality and Myfunnyvalentine.
He said, "Visuality's last run was a great run, the going was very soft, she was slow away and green, and the draw on that day might not have been in her favour. There is scope for improvement. There shouldn't be much between her and Myfunnyvalentine, but I am leaning towards Visuality, because she was still learning in those first two runs."
Visuality finished fourth in the Gr 3 Strelitzia Stakes over 1100m at Scottsville last time out and has two lengths to find on The Secret Is Out.
Myfunnyvalentine was runner up in the Gr 2 SA Fillies Nursery over 1160m at Turffontein second time out and has 1,2 lengths to find on Fursa.
Tarry believes Red Rock, who is his sole runner in the Gr 1 Tsogo Sun Gold Medallion, is better than his last run. He said, "He beat a horse on debut who came out and won his next race."
The horse he refers to is British Royale, who beat Gold Medallion contender Sporting Monarch in a Juvenile Plate over 1000m second time out, albeit when receiving 5kg, and the third horse in that race was beaten 12,1 lengths.
He continued, "Red Rock took a few bumps in his second start and will prefer the 1200m."
In that last start Red Rock was beaten 9,75 lengths in the Gr 3 Godolphin Barb Stakes over 1100m at Scottsville in "very soft going", a race in which the highly promising Red Chesnut Road was 6,25 lengths clear of second-placed Over Sure.
Red Rock will thus have to make up 3,5 lengths on Over Sure in the Gold Medallion, although he was being eased at the line and could have got a bit closer.
Tarry concluded, "Tiger's Touch's and Red Rock's final gallops (at Randjesfontein) were exceptional."
‹ Previous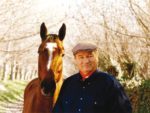 Monty Roberts – Tickets Still Available