Carl Burger, who had a quadruple heart bypass operation in Cape Town's Vincent Pallotti Hospital a fortnight ago, had his left leg amputated below the knee on Thursday, writes Michael Clower.
The Philippi trainer, surprisingly cheerful in the circumstances, said: "I will be in here for a while but I am going to have a prosthesis fitted in a couple of months and my heart is now strong again.
"In the meantime I am entering into a training partnership with Riaan van Reenen and the runners
will be in our joint names from next Monday."
Van Reenen confirmed the arrangement, saying: "Carl is going to need help – and what are friends for if you are not there for them when they need you?
"When Carl is feeling better, he can come and help me. It will help the horses too because having more of them means you can match them better when they work."
www.goldcircle.co.za
‹ Previous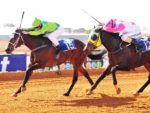 Go Get The Tom Today