The fast growing Green Street Bloodstock is expanding internationally to bring their client base a wider range of ownership opportunities and a chance at winning major prize money. They have appointed their first trainer in Singapore.
"The rapid and substantial growth of Green Street SA is something that never ceases to amaze me, it's real 'pinch myself' stuff", said Justin Vermaak, director of GSB as he confirmed that young trainer James 'Hollywood' Peters had been appointed as Green Street Stable's first trainer in Singapore.
The 31 year old trainer claimed his first feature race win after Titanium won the $300,000 Gr2 Stewards' Cup in May. The 31-year-old Englishman and former assistant-trainer cum senior track rider officially began operations on April 1 in a seamless switchover from trainer Michael Freedman.
"None of the GSB progress would have been possible without support from our loyal client base and this will be the same with our international expansion," said Justin.
GSB International will be launching in Singapore, where the Turf Club offers an attractive rebate scheme which minimises costs.
Stakes are top-class and paid within a system that allows owners greater opportunity to break even, and often run at a profit, if they are well managed.
GSB has teamed up with the highly thought of and extremely experienced David Raphael, best known from his days as the race caller in Hong Kong, where he called 'The pride of South Africa' London News to victory in the QE2 Cup.
The very familiar 'voice' turned to bloodstock a few years ago and has done phenomenal things for his investors.
On behalf of GSB, the dynamic Vermaak said that his team were privileged to be tapping into Raphael's network and knowledge of Asia and Australasia to source horses.
"He will prove to be an asset in our recruitment drive which is essential to turning big profits for our investors", he added.
With David and Justin working together, the right price will be calculated on each purchase according to the projected levels of stake money and which divisions the horse could reasonably progress.
The GSB aim is to purchase already proven racehorses in Australasia, that have already shown ability when trialling or racing, removing the risk of buying unproven horses.
"This way, even if a horse does not live up to the heights we believe it can, the worst case scenario will be that it wins races in a lower class, still yielding profits, while of course the best case scenario turns into potential big money profits," says Justin.
In closing, he said that the one-stop shop concept offered took care of their clients' international racing from A to Z.
"I am fully confident that our Singapore venture will be profitable for all our owners – in fact I would go as far as say that any SA-based owners will have their SA racing portfolios paid for by their Singapore portfolios. So anybody who looks to run their racing ownership career as a business should seriously consider. Join us for the ride!"
Justin is arranging a GSB group tour to Singapore for the Gold Cup on 20 November.
For more information and a detailed information brochure, please email Justin on [email protected]
‹ Previous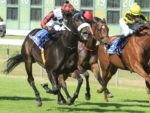 Champagne End To Cape Season Today