Jeff loyd received one of his biggest receptions of the season after making his premiership win official aboard Rebel Miss at Doomben on Saturday.

But it wasn't a delirious group of owners or pocket-filled punters, it was his extended family celebrating his history-making premiership winning feat.
Wife Nicola had made a surprise trip to Doomben with sons Zac and Jaden and a big support party to congratulate the 54-year-old on his premiership win.
"Coming back I was thinking 'I had no idea this horse had so many owners'. It's a total surprise and I wasn't expecting that," Lloyd said.
The South African jockey completed his fairytale season in fitting style when he rounded off a winning double on Sagaronne in the final event.
"What a way to finish off a great season," he said.
The only downside was a nine-day suspension handed down by stewards for an infringement in the fifth event.
Lloyd revealed he had thought about the premiership for a long time.
After deciding to come back to riding after a stroke in 2013, he was determined not just to be making up the numbers, given the remarkable career he had enjoyed around the world.
"I wasn't happy thinking that was the end of my ­career," he said. "I set myself a challenge to ride at the highest level again and it's very satisfying to have achieved this.
"Fortunately I haven't had a problem or injury, which has been great for me.
"I had a look this week to see which trainer I had ridden the most for, but there wasn't just one. There has been about eight or nine trainers who have given me a lot of support and I am very grateful for that."
Lloyd becomes the oldest jockey ever to win the Queensland metropolitan title and the man he deposed, Jim Byrne, was full of credit for the achievement.
"If anyone was going to beat me, I'm glad it was Jeff," Byrne said. "I know how hard he has worked. I'm ticked off I haven't won, but Jeff is a great guy, a gentleman and it's well deserved."
www.couriermail.com.au
‹ Previous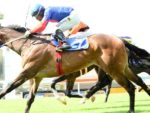 R8 Million Pick 6 Today