"What we learned at #VDJ2016. Marinaresco is the best 3yo in SA by a distance. Inara is damn special. And @MdkRacing is still the best around". So tweeted Alistair Cohen after this year's event and I think he got it spot on.
Stephen Leacock said "It takes a good deal of physical courage to ride a horse. This, however, I have. I get it at about forty cents a flask, and take it as required." His words were ringing in my ears as I contemplated the 12 race 2016 Vodacom Durban July card. With race 1 off at 11:25 and the last at 19:55, eight and a half hours of entertainment felt a bit on the generous side, particularly when the weather gods conspired to turn what is usually frock weather into grey skies and had everyone hunching into their scarves and winter coats.
However, the July weaves a special magic and despite anything your imagination can dream up, July day always manages to find an ace up its sleeve to trump it.
At the bottom of the escalators at King Shaka's arrivals area, the Winning Form team infected everyone with their energy and enthusiasm – and made sure that all travellers went home clutching a copy of the Sporting Post and a Winning Form magazine – well done team!
Despite the chilly weather and dire predictions, I'm told that official attendance figures for Saturday were 47,000. However, while there was a queue outside the Greyville gates, it felt like less of a crush than normal. Even the traffic to get to the course didn't feel as punishing as it usually does, allowing me to arrive in considerably better spirits than expected.
And they're off
The day's racing got off to a brisk start, with the power duo of Dean Kannemeyer and Anthony Delpech drawing first blood with Drakenstein Stud's Impala Lily in the day's opener, the 1400m FM 84 Handicap on the polytrack.
Doug Whyte got a not-so-warm South African welcome in his first ride of the day in The Sea Cottage Saga 50 Years Middle Stakes (otherwise known as race 2 – who names these things?), when he had to employ evasive tactics on 3yo Aspara, who recovered impressively to finish just over 3 lengths behind Dennis Drier's very nice Toreador gelding, Desert Fighter. It is also worth noting the impressive late run from Frank Robinson's Son Of Silver who arrived out of nowhere to deny Kom Naidoo's Silence Descends second place by a nose.
The Stayers
Race 3, which seems to get a new name every year, was run as the Delta Air Lines 2200 this year. This race always attracts a serious field and this year's line-up offered a chocolate box of favourites. After last year's July drama, it was sweet justice to watch Punta Arenas storming home to an emphatic and very well-deserved win. Part-owner Lee-Ann Drew confirmed that Mr Drier has firm instructions to retire Punta as soon as he shows any sign of not enjoying his racing, but their grand galloper seems to go from strength to strength.
Devastating de Kock
I was sad to see King of Pain scratched from the Gr3 SABC Gold Vase and the July gods obviously took my disappointment personally, serving up a record-breaking result for Mike de Kock to cheer me up. Donovan Dillon set off in determined fashion on Kingston Mines with Smart Mart and Eric Ngwane settling happily in their slipstream. Coming into the straight, Kingston Mines and Smart Mart drew clear of the field and it looked like a two horse race until S'manga Khumalo and Enaad swooped from the clouds, cutting a swathe through the stable companions to win by a quarter of a length. And not content with the 'Millard-style' first three past the post, Callan Murray produced a polished ride aboard Kinaan, sewing up the quartet for Mike de Kock. Nice one!
Juvenile promise
There had been plenty of talk ahead of the Gr2 Golden Slipper and some magnificent fillies turned up to do battle. The honours went to Peter de Beyer, Glen Kotzen and Stuart Randolph with Final Judgement, but there were eye-catching performances from Sail and Visuality that promise future plaudits for their respective sires.
The Gr2 Golden Horseshoe saw a command performance from Fred Crabbia's Australian import, Zodiac Ruler. The enormous Zoffany colt gave the field a 2 length lead and 1400m in Graded company is not the time to be charitable! However, he mounted one of the most remarkable recoveries I've seen in a while, obliterating the field to win as he liked.
Richard Fourie's smile spoke volumes and with a 2yo like this in their string, the Snaiths must be looking forward to next season.
Callan Murray again showed his BMT, putting in an accomplished performance to bring Misty Birnam home in second and Paul Gadsby's Gimmethegreenlight colt, Gunner also looks one for the notebook.
The big one
While the balconies and parade ring had been quiet for most of the day, it was suddenly standing room only as the podium was set up for the July jockeys. Big race butterflies arrived in force as the jockeys were announced and took their places for the group photo. The 'Prez' had his usual banter with the riders with Andrew Fortune adding his two cents' worth as only Andrew can.
And suddenly the formalities were over and the horses entered the parade ring. I need to pay every single stable team a huge compliment as every horse was a feast for the eye. I also want to make a special mention of Anthony Delpech for giving Bela-Bela a pat on the nose before mounting up. Class.
Apart from a good spread of local bloodlines, there was also a host of interesting international pedigrees to appraise. It's something of a dilemma choosing where to watch the big race from, but I have found staying in the parade ring often pays dividends as many connections seem to gravitate towards the sanctuary of its relative peace and quiet.
I rarely bet and never on the big days as by then I've become fond of all the runners and once you know all their back stories, choosing one from the bunch feels like a betrayal, so I keep my money in my pocket. The Conglomerate is a particularly good-looking individual. I knew he'd been purpose bought for the July and having had Chad Schofield specially drafted in for last year's race, I'd taken a special interest in him. History reflects that last year's run was not to be, with Schofield's attempts to get through the traffic thwarted at every turn. This year's run could not have been more different. While trainer Joey Ramsden was disappointed at copping the outside draw for the second year running, Striker simply used it to deliver a race riding masterclass. Steering smoothly past the field he secured an early position, bided his time into the straight and then simply pressed the button. It was breath-taking to watch.
And so, Africa's greatest race, prefaced by Johnny Clegg's Spirit of the Great Heart, was won by a black horse, ridden by a white jockey, trained by an Englishman and owned by an Afrikaner. Rainbow nation indeed.
Greyville ghosts
There were multiple ghosts of July's past as the field passed the finish line. In a repeat of the 2012 finish, it was a Strydom / van Niekerk one-two past the post again. In another parallel with Stan Elley and Punta Arenas last year, outgoing stalwart of the Cape training ranks, Mike Bass also had to be content with second (albeit a very gallant one) in his July swansong. Marinaresco proved that he is surely the best 3yo in the country and Mr Bass can take some comfort in leaving a terrific legacy for Candice to continue next year. There was even 2014 consolation for Weiho Marwing when Mac De Lago finished a well-deserved 3rd.
However, it was a wonderful story of a plan come together for the powerful Ramsden-Jooste combination and fitting that it was a first July victory for this partnership that has achieved so much together. With Mr Jooste out of the country, the post-race formalities were very ably handled by Mrs Jooste, joking that being deemed bad luck at big race days, Saturday's result might call for a change of strategy. Here's hoping as she added a genuine touch of class and grace and her 'Jackie O' outfit matched the 'leader of the pack' race day theme to a T.
Best of the rest
Gavin van Zyl and Warren Kennedy put their big race disappointment behind them with an emphatic 3 length win with Mr & Mrs Ackerman's Isca in the 1000m poly MR103 Handicap. Duncan Howells is making the KZN Sale Million something of his own and duly took the honours for the second time in 3 years with the 2yo Windrush filly, Lunar Rush.
Grant van Niekerk reversed the July form in the Jonsson Workwear Garden Province Stakes, beating Piere Strydom and Olma by half a length on Inara, and securing a last July day Gr1 for Mike Bass. Congratulations to Drakenstein Stud – Inara is a lovely filly with a wonderful story and with 5 Gr1's under her belt, the paddocks will surely be beckoning soon.
Gavin van Zyl and Warren Kennedy were back again in the TabGold Sprint, grabbing the honours with Redcarpet Captain by a length from Ernie, and we rounded off the day with the Daisy Business Solutions Handicap where Brett Crawford and Sean Veal dished out a 5 length walloping with Sail South. And with the fireworks fired and the streamers streamed, it was all over for another year.
Wrap up
With ups, downs, highs, lows and surprises, the 2016 VDJ kept us on our toes from start to finish. It was wonderful catching up with racing favourites from all around the country, fun to see local friends in a different location and of course, the chance to make new friends, including my top finds of the day, Beth Shaw, Brigit Schröder and Stuart McClelland from BSET who were responsible for ensuring the first three July finishers (and a host of other runners on the day) all arrived in tip top condition thanks to their bodywork.
Speaking of which, there have been several carefully – and some not so carefully – worded opinions on the state of the track. If it's not too much to ask, it really would make things a bit more fun if we could just get it fixed and not have to watch the runners go down and think 'I hope no-one dies this time'. Please guys, sort it out.
I was left at the airport with a bemused smile courtesy of my taxi driver. Upon hearing I'd been in town for the July, he regaled me with a joke, "The strongest horse in the world is a racehorse – it takes thousands of people for a ride at the same time."
Perhaps, but oh, how we enjoy the ride.
"I'm searching for the spirit of the great heart…"
‹ Previous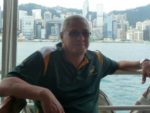 Bumper July Bucks Predictions