SA's golden girl, Smart Call, has completed the next step in her journey to the Breeders' Cup and arrived in Newmarket on 29 June. I was lucky enough to be in the area recently and popped in to see how she's doing.
I have a funny way of choosing horses to follow. I either have a feeling for them or I don't. It's something that's hard to explain and (unfortunately) not a tool I seem able to employ at will, or I'd be writing this from a deserted desert island with a daiquiri in the other hand. Nevertheless, when it does roll round, it generally means something good.
I'd seen a few Ideal World progeny and liked the look of them, but the market is an unforgiving thing. It's sink or swim and freshman sires have a very small window in which to make an impression. Ideal World's small first crop hit our tracks in 2014 and while they were knocking on the door, they weren't setting the world on fire (what a difference a year makes!). But then Smart Call popped up on my radar and that familiar feeling kicked in, so when I heard Alec Laird was bringing her to Cape Town for the Paddock Stakes back in January, I rang up and made an appointment.
Media is pretty good these days in terms of photographs, videos and so forth, but with the big horses you don't really know until you're standing in front of them. At least, I don't. Winston Churchill said there is something about the outside of a horse that is good for the inside of a man and he's right.
But there is something particularly special about a 'big' horse and once you've experienced it, it's not something you forget in a hurry.
Standing in their presence gives you a sense of well-being and an overwhelming feeling that God (or whichever deity you prefer) is in his heaven and all's well in the world.
Meeting Smart Call
Alec was tremendously generous with his time and we ended up spending most of the morning in Smart Call's stable at her temporary digs in Milnerton. While we discussed his family history, his career, and some of the bigger name horses that have passed through his hands, Smart Call moved quietly around her box, picking at her feed and frequently stopping to nuzzle her trainer, or simply standing quietly to breathe on his shoulder. The star filly is not flashy as horses go – she's a fairly plain bright bay with delicate bracelets of white on her near fore and hind feet and a tiny star situated high on her forehead.
Her physical proportions and sheer quality are arresting though and the X factor is most definitely there.
Plus she is one of the kindest, most gentle horses I have ever met. I went home filled with an easy confidence and made sure I was one of the first to congratulate Alec after her Paddock Stakes win.
Smart Call's subsequent hit-it-out-of-the-ballpark 2016 Met victory somewhat overshadowed the enormity of her Paddock Stakes achievement and I'm not sure it got quite as much fuss as it deserved. Alongside the Queen's Plate, the Paddock Stakes formed part of this year's Breeders' Cup Challenge 'Win and You're In' initiative, which includes Breeders Cup entry fees as well as a $40k travel allowance to all Challenge winners situated outside North America. So when Smart Call powered past the post that day, she rubber stamped her ticket to America. The Met – spectacular as it was – was 'just' a rather nice cherry on top. However, if there had been any second thoughts about attempting the challenge, the manner of her Met win blew them clean out of the water. Smart Call was off to the Breeders' Cup.
Have passport, will travel
The journey of a thousand miles begins with a single step and Smart Call took the first of those steps when she arrived at the Oaklands quarantine facility on 5 March 2016. On 27 March she jetted off to Mauritius where the team made the arduous journey seem more like a beach holiday than enforced confinement with gorgeous photos of her swimming in the ocean and taking leafy walks through the surrounding forest. Which goes to show, it's all about perspective, but the team have had a quiet confidence and 'can do' attitude throughout her career, making it all seem (from the side lines anyway), terribly easy and, well, fun.
Smart Call's island holiday came to an end on 27 June, when she set off to Europe, with her suitcase labelled 'Abington Place, Newmarket'. However it was a fairly roundabout journey and she first flew into Nairobi in Kenya, then on to Liege in Belgium. From Leige there was a 3 hour road trip to Amsterdam, where the team got a 12 hour respite before tackling the last 8 hour leg of the journey which included a ferry trip across the English Channel before they finally arrived at Abington Place in Newmarket on Wednesday, 29 June. Google Maps tells me the trip totals around 16,000 kms.
Old friends in new places
As the S.O. and I had booked a trip to the UK and practically have to drive through Newmarket to visit family in Norfolk, I managed to steal a day out of our trip to pay her a quick visit. As luck would have it, Alec was also in England at the time and I got to catch up with them both.
Newmarket is widely considered the home of horse racing and a visit is a pilgrimage for any racing fan, so it is particularly special to drive up to Abington, announce your arrival to the polished brass intercom and have the ornate wrought iron gates swing graciously open. Alec was waiting to receive us and, as seems to be our habit, we ended up in Smart Call's stable.
She seems to have taken the trip well in her stride and if anything, rather than looking stressed by the ordeal, she seems to have filled out somewhat. In fact, we arrived in the middle of her breakfast, which Alec had arranged in a bowl at her door. "She didn't seem to want to eat out of the manger, so I thought I'd try this," he explains. It seems to be a success as she munches away happily while we chat.
She is much the same as I remember from our first meeting, if not a little more imposing. She has been clipped and Alec explains that having wintered in Mauritius, Smart Call threw a bit of a coat, but she is shiny and has dapples of good health. She takes the stable invasion in good humour, happily carrying on with her breakfast, while we talk and admire her.
He relates that owner Jessica Slack had mentioned wanting to have a runner in the Breeders' Cup for a while and adds, "When we won the Woolavington I told her this was the horse." Fittingly, in winning the Woolavington, Smart Call credited her sire, Mauritzfontein resident Ideal World, with his first Gr1 winner from his first crop. Alec has something of a knack for producing the first Group 1 winners for freshman sires, having done so for no less than three so far – Greys Inn (Royal Bencher), Judpot (Forest Indigo) and now Ideal World with Smart Call. "After the Woolavington, everything went smoothly. Her win in the Paddock Stakes got us in and after winning the Met there was nothing left for her to prove at home," he says.
Having taken the travelling well, Smart Call has started her Newmarket training regime. She's completed her preliminary work and on the day of our visit, Alec had spent the morning walking miles across the Newmarket heath inspecting the tracks and confirmed that they were ready to step things up. All being well, Smart Call's prep run will be the Gr1 Sun Chariot Stakes over 8 furlongs of Newmarket's Rowley Mile Racecourse on 1 October 2016. The race will be off at 15:25 English time (16:25 local time).
Pointing out that they've allowed a little over 3 months to get ready, Alec shrugs and says "Well, we can't afford anything to go wrong then, can we? We'll just have to take it as it comes."
The Breeders' Cup
The 2016 Breeders' Cup will be the 33rd renewal of the series and will be held on Friday 4th and Saturday 5th November 2016. This year's event will be hosted at Santa Anita Park in California under their slogan 'The Best Return To The West'. Smart Call's entry has caused a stir and Alec confirms that the media hoopla has already started.
Smart Call will be aiming for the $2 million Gr1 Breeders' Cup Fillies and Mares Turf over 1 ¼ mile, scheduled for the second day of the series on Saturday, 5 November 2016. Smart Call's paternal granddam, Banks Hill ran it twice, winning in 2001 (beating ill-fated South African runner, Spook Express) and finishing second to Starine in 2002.
Of course it's not Alec's first trip around the block, having been one of the first wave of our modern pioneers to take on the world's best in their own back yard in Hong Kong's QEII Cup with London News back in 1997.
Reality check
Seeing Smart Call unconcernedly munching her breakfast, there, in Newmarket, is something of a surreal experience. The Breeders' Cup is around 100 days away now and it's all starting to feel uncomfortably real. "It's exciting, isn't it?" asks Alec with a grin and I realise that despite everything – all the hours, the hard work and the worry – he's enjoying himself. And that makes me grin too and realise that yes, it is exciting. Wildly so.
Given everything it's taken to get this far, it seems a little silly to ask what he thinks of her chances, but I ask anyway. Alec answers, "We'll give it our best shot."
I give Smart Call a final pat and leave with a sense of well-being and an overwhelming feeling that God is in his heaven and all's well in the world.
‹ Previous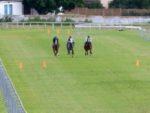 Newsflash – Durbanville Abandoned