Avontuur Estate, the thoroughbred stud farm and winery between Stellenbosch and Somerset West in the Western Cape, is over the moon to be top of the Breeders log on Average Earnings per Runner for the racing season just ended on 31 July 2016.
"With only 35 mares on the farm and 53 runners, which form part of the stats for the past year, our average earnings per runner of R158,979 and our percentage of winners to runners of 56.6% is truly a feather in the cap of our team as well as the Taberer family, owners of Avontuur Estate. In the end it's the loyal support of the owners and trainers who made this dream come true for us," says Avontuur Estate GM Pippa Mickleburgh.
The average earnings per runner yardstick is a popular measure used to determine the value, consistency and quality of stock produced by a farm..
This is the second year running that Avontuur is on top in this category, and it is a testament to good management, planning and a vision to be all about quality not quantity.  "With our sires Var and Oratorio continuing to deliver the goods and a band of quality broodmares, we look forward to another competitive and successful year," said Pippa..
‹ Previous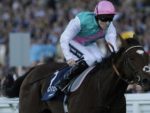 Frankel Breaks New Ground