Talented Mauritian jockey Nooresh Juglall swept the outright riding honours at Kranji on Friday night when he booted home a memorable five-timer, the first of his brilliant young career.
A former two-time South African champion apprentice jockey, Juglall had three four-timers under the belt in the Rainbow Nation and a fourth one chalked up in Singapore (War Time, Emperor's Banquet, Peace No War and Gilt Lad) at his first season in 2014.
Juglall, who  turned 25 last Friday, was already tickled pink he had equalled his record with the Patrick Shaw-trained Rafaello in the $100,000 Open Benchmark 97 race over 1200m, but with last-start winner and lightweight chance Queen Roulette ($36) in the penultimate event, the $75,000 Novice race over 1200m, he had a sneaky suspicion he might well be heading towards a personal best of five wins.
Settled in rear division, the home-bred daughter of Ruwi had "High Five" written all over her when she cruised around the pack at the top of the straight to hit the front and win well.
Juglall, who had wife Chaaya, sister-in-law Anusha and her husband Avi Bundhoo on hand to watch the five-star performance, struggled to conceal his emotion after he jumped off Queen Roulette.
"I knew I had a decent book of rides tonight and I was expecting at least one or two winners, but five was beyond my wildest dreams," said Juglall.
"A big thank you to Pat Shaw and (assistant-trainer) Ricardo (Le Grange) as they gave me four of the five wins and also Leslie Khoo for the last win (Queen Roulette).
"It's great I was also part of Pat's milestone of 800 winners. Congratulations to him and long may he continue like that."
Juglall was hard pressed to single out the best win among his quintet made up of Mighty Kenny, Mighty Emperor, Big Brother, Rafaello and Queen Roulette, but said Rafaello was by far his favourite horse.
Juglall had words of praise for his own milestone provider, Queen Roulette, whom he was riding for the first time.
"She was always travelling so well at the back. Once the leaders came back to her, she was in the firing line and won a very nice race," said Juglall who has also struck quite a handy amount of winners for Khoo in his three seasons in Singapore.
"I'm glad I was able to achieve this record in front of my relatives from Mauritius, my sister-in-law Anusha and her husband Avi before they fly back next week. They have brought me luck!"
www.singaporeturfclub.com
‹ Previous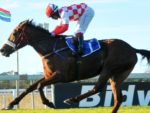 Cape Crawl Is Catching