This weekend's racing provided a wonderful milestone for one of South Africa's best exports in the thoroughbred industry, Pat Shaw, writes Gareth Pepper.
Pat saddled his 800th winner on Friday night courtesy of Big Brother.
But things didn't end there , he saddled a total of 7 winners for the weekend (the biggest number the stable have recorded on a weekends racing at the Turf Club) Friday's four were all ridden by Nuresh Juglall who also had a another winner on the night to record his best night here!
Sunday saw the running of the Chairmans Trophy (Gr. 2) for $300 000 and you guessed right, Pat Shaw was not only responsible for the winner but the 2nd placed runner too in Majestic Moments.
Quechua , the iron horse of the yard recorded his 8th career victory and took his earnings over the $2,5 million mark! Ridden by regular pilot CW Brown the game campaigner fought well to the line to take it out
I had the honour of interviewing Pat after his 801st winner and he thanked his amazing team – Ricardo , Jacci, Barend and Nooresh and one has to mention his lovely wife Wendy who is definitely the rock of the whole operation and the glue that binds the family he calls his team!
Pat has been a standout trainer since his arrival in Singapore and is one seriously talented conditioner, who has enjoyed constant success at the highest level ! One of his traits is importing Argentinian horses that go through the divisions and compete at the highest level.
When I asked him what the major highlight of his career was, he did not hesitate that Rocket Man , one of the best sprinters the world has seen sticks out and it was indeed fitting that Pat had a winner in the familiar Crabbia silks this weekend with a son of Oratorio named Rafaello!
Congrats Pat – what a superb achievement  for one of the finest trainers I have seen.
Till next time.
‹ Previous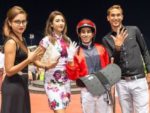 High Five For Juglall