Those that did their homework may have found a gem in the Flamingo Park dust on Saturday. Gauteng-based trainer Candice Dawson travelled to the Diamond City with her first runner at the track and walked off with the lion's share of the spoils in the R200 000 RA Flamingo Mile.
With her twenty-strong CK Racing string based just outside Randjesfontein on a private training establishment, Candice Dawson has made a flying start to her career after only  sending out her first runner towards the end of April.
She celebrated her first winner on 17 July when Like A Boss won at Turffontein in the hands of Karl Zechner.
On Saturday she put a saddle on Sundari, her first Kimberley  runner for her own account, and the inimitable Triple Crown winning jockey, they call 'The Machine', was aboard again.
But those that have longer memories and did their homework would have noted that it was the same Candice Dawson who saddled Caryl's Law to win the RA Flamingo Mile in 2012, in her capacity as Gauteng assistant to Kumaran Naidoo.
Throw in Sundari's two smart Vaal  sand wins for Mike Azzie, and his 16-1 'surprise winner' tag on Saturday starts unravelling.
The R350 000 Cape Premier Yearling Sale Book 1 graduate started his career with Joey Ramsden out of Milnerton, where he managed only one win from 16 starts for the Ralphs family.
He was moved to Mike Azzie where he picked up those two sand victories.
Then he joined the Dawson yard.
"I am so thrilled to have registered my first feature success for the Ralphs. Katherine (Ralphs) is my Business Manager and her Dad Lindsay (Ralphs) has provided the financial backing. It is not easy starting out training and they have made it possible for me to realise my dream, together with a core of good owners who have supported me well," said the instantly recognisable blonde that has been in racing for close on 20 years.
It is not polite to ask a lady her age, but that number is fairly easy to calculate based on the fact that Candice started out in racing while still in her Std 8 (Grade 10, these days) year.
She earned her stripes working for the late Mike Airey, Geoff Woodruff and Kum Naidoo, before spending spent two years in Mauritius, where she was granted  her licence.
The race went accordingly to plan…
Lavender Landscape ruined his chances at the start and Sundari was sluggish early on in the fourteen horse field.
Although carrying topweight in the feature, Mike de Kock's classy Toro Rosso went off favourite and looked to have a shout with 300m to go. But the Brazillian-bred came under fire from local hero Jaguar, as Sundari also found his feet in the centre.
Andrew Fortune looked to have moved at the right time on Jaguar, but Karl Zechner had Sundari in full cry and the son of Fort Wood finished strongly under a left-handed stick to beat Jaguar going away by 1,20 lengths in a time of 99,65 secs.
Zechner rode a half kilo overweight.
The longshot Samogan came on late for third, just ahead of the gallant Kingofmountain.
Toro Rosso had nothing to come when it counted and faded out.
Sundari was bred by Maine Chance and is a son of Fort Wood out of the very smart seven-time winning Wolfhound mare, Surabi.
He has now won 4 races with 9 places from his 30 starts and took his earnings to R340 613.
A delighted Candice closed by saying that she may look to the Greyville polytrack as a next option for her big boy.
‹ Previous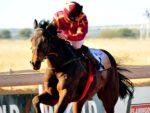 Summerhill's Four O' Diamonds