It has been 22 years since recently retired – and now riding work again – Kieren Fallon pulled his colleague Stuart Webster from his mount after winning a race at Beverley.
Fallon was furious at an incident that took place during the race.
Read more on Short Heads
‹ Previous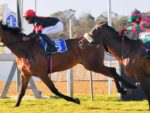 Good Greeff – Champion Again!