Growing up, most horse-mad kids dream of a future as a professional rider, but spending all day in the saddle is not quite as easy or as much fun as it might appear at first glance.  However, once you have a horse, you soon realise that you need a vet, a farrier, a dental technician, an equine body worker and indeed a small army of auxiliary professionals to help you keep the professional (or even the semi-professional) equine athlete happy, healthy and sound, so the good news is that there are a surprising number of other options available for people wanting to make a career out of working with horses.
Beth Shaw studied under one of South Africa's pioneers of equine body work, the inimitable Winks Greene and has been an Equine Transeva Technique (ETTTM) practitioner for over 15 years.  She is such a proponent of the work, that she put her name to it, opening the Beth Shaw Equine Training (BSET) Academy in Howick in 2008 and Beth and her Academy graduates have become an integral part of equine management teams across the country.
About Beth
Originally from the USA, Beth has owned and ridden horses all her life, being an active Pony Clubber and eventer in the US, and since relocating to South Africa, has represented her adopted country numerous times at Ladies Polo.
Beth came to South Africa by a fairly roundabout route.  Explaining that she'd sold her top event horse when she went to university, she stayed involved with horses by working on ranches in Wyoming and Colorado during summer holidays.  Bitter Root Ranch had connections all over the world and through them, Beth got a job with Off Beat Safaris at the Masai Mara in Kenya.  When the rains came, they organised a job for Beth in South Africa and she ended up at a polo yard in KZN.  "We often battled to keep the horses sound, and if the vets couldn't find the lameness, we'd call in Winks Greene, so that's how we first met."
Transeva
The Transeva device (originally called a 'Strongbox') was developed by Charles Strong specialist physiotherapist to the Royal Family.  Strong developed the device along Faradic lines, applying a low electrical impulse to stimulate damaged muscle tissue and improve blood and lymph circulation.  On Lord Mountbatten's advice, Charles Strong started using the machine on horses and was eventually knighted for inventing the instrument.
Winks Greene, the daughter of well-known local trainer, breeder and owner, Denis Labistour travelled to England to train under Charles Strong and brought the first Transeva to South Africa in 1953.  She put the machine to good use, building thousands of case studies, but is perhaps best remembered for rehabilitating Gondolier after a training injury that threatened to end his career.  Winks spent two and a half months treating him and he went on to win the 1985 Rothmans July.
When Charles Strong was no longer able to work, his PA came to South Africa and asked Winks to continue his legacy.  Winks took responsibility for the work, developing and refining the techniques, modifying the Transeva device to make it more portable and improving the pulse to make it more user-friendly.  Her daughter, Felicity Whitton produces the W.G. Transeva now.
Beth studied under Winks for a number of years and when Winks retired, she passed her work and her client base to Beth.  "Winks was a fantastic lady.  She always had so much time for people and was very passionate about her work. She was ahead of her time, really.  As Winks before me, I am now the guardian of the technique and it's my responsibility to take it to the next level."
BSET
The Academy offers a range of courses, starting with the 14 week Fundamental Equine Practices course, which is designed for the student looking for further education in the equine field and a formal introduction to the equine industry.  It also helps students prepare for EQASA 1 and 2, develop their riding skills, and understanding of the equine athlete.
Secondly, there is the Equine Practices and Intro to ETT course which runs over a year.  The course is concentrated and offers detailed and comprehensive equine tuition aimed at giving students the skills to start their own therapy career in horses.  Course material includes extensive hands-on tuition with the W.G. Transeva and ETTTM.  It also covers yard management, tack, shoeing bio-mechanics, veterinary, anatomy, physiology, nutrition, and students receive riding instruction including remedial riding and developing riding skills to improve the equine athlete as well as practical subjects such as lungeing, riding, stretching, massage and body work.
"Through BSET Academy we teach students how to use ETTTM correctly and hopefully move the technique forward.  With Academic Facilitator and riding instructor Robyn Butterworth we have developed an intensive academic curriculum over 3 semesters.  This year Robyn Berry joined BSET Academy to help with the riding instruction and Birgit Schroder is an ETTTM Practitioner and ETTTM instructor at BSET."
"I started in 2008 and the first students  graduated in 2009. We started with 2 students and we are up to 10 students a year at this point.  After completing the first year BSET offers students to stay on for a further 6 months to develop their skills and gain experience. BSET Academy is also in the process of developing  a recognised diploma course.
"Students live on campus and are involved in horses 6 days a week.  You have a project horse that's yours to look after, ride and Transeva.  There are also lectures and riding lessons every day.  The riding lessons teach you to be a more effective rider and to be able to rehabilitate a horse's gait through specific exercises.  There are also lectures by dentists, farriers, chiropractors and a visit to Spurwing Horse Feeds to learn about nutrition.  It is quite intense and very practical and I'm proud that my students walk out with a skill that allows them to work almost anywhere in the world."
It wasn't all smooth sailing though.  Beth explains, "I'd studied with Winks and became very good at my skill, so I was quite nervous to begin with,  I was selfish and didn't want to share what I knew, but starting the BSET Academy turned out to be the best thing I've ever done.  It started a huge international family.  I love teaching and my teaching has helped me become much better at my job.  Because my students are always pushing me to learn, I'm always growing and learning new things.  I would never be where I am or know what I know today without the Academy."
Racing
The male-dominated world of racing can be cautious when it comes to trying new things, but Beth says, "I have built my business very carefully and make sure that I come in under vets advice and approval.  I also teach my students the professional business manners they need for the equine industry.  And I think our results speak for themselves.  On July day this year, we treated the first three across the line in the July itself as well as other winners on the day.  We treated three of the Gr1 winners on Gold Cup day as well as 2nd and 4th across the line in the Gold Cup itself, but each year I get to deal with real super stars.  I am very grateful for the work we do and the support we have."
"We've been first across the line in the July 7 times now, but the real challenge is to get the horse to the race itself, never mind first across the line.  It's a long-term procedure and we need to start working on these horses in March.  After each gallop you put them back on line and get those muscles balanced and they get better and better with each training session.  That's why we created the term 'perfecting the equine athlete'".
"A racehorse is an athlete and it takes a team of people to make him as perfect as possible – from his groom to his exercise rider, the jockey, the trainer and all the other people who all play a role – it's a team effort and a process to get an athlete to their best."
"I think one of the biggest challenges is that we're working with a very young athlete.  When a racehorse is being asked to perform at its full potential, it is still very young – the spine is still growing, tendons and ligaments are still maturing.  Racing builds massive muscle bulk so that they can travel at top speed – the force of gravity and the resistance they need to overcome simply to move through space is huge.  So we need to try and maintain the balance and symmetry as much as we can."
"We like to keep things 'on line' and as balanced as possible to keep the horse as strong and fluent and the gait as clean as possible.  Breeders dedicate their career to creating a top athlete genetically.  They've created it and I see it as my responsibility to help it maintain the stride that those people have tried to create and help it get to the racetrack.  So many horses get lost along the way, but a horse has got a big heart and the more you can help him maintain his stride, the better he's going to be.  The main thing is that the horses themselves continue to teach us and that's what's most amazing."
For more information on Beth, the ETTTM or the BSET Academy, please visit www.bsetacademy.co.za or www.BethShaw-ETT.com
‹ Previous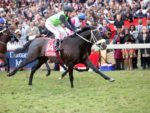 Joey's July King Heads For Summer