Klawervlei Stud have announced that they will be offering a brand new App to allow regular patrons and supporters of the farm and its stallions a quick, convenient way to follow them –at the touch of a button!
The new App, which is available for both Android and Apple, is free at the following stores:
Apple itunes
Google Play Store
This exciting new product will not only keep patrons and other interested parties up to date with all of Klawervlei's latest news, but will also ensure that the various syndicate groups involved with the farm will receive regular updates on farm happenings and their latest race entries.
The app will also update and inform members on Klawervlei's latest sales ventures, the farm's winners, and will also include various updates on the farm's stallions.
For more information on this exciting new service, please contact Grant Knowles at [email protected]
‹ Previous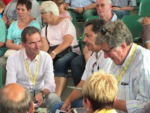 'Best-Kept Secret' – Markus Jooste