25/26/27 November 2016 sees the 2nd South African Association of Professional Farriers (SAAPF) international blacksmith contest and horse-shoeing clinic at Mistico Equestrian Centre outside Paarl.
Schedule of Events
The three day event kicks off at 9am on Friday, 25 November with a clinic hosted by this year's judge, Craig Trnka, an highly regarded farrier and himself crowned World Champion Blacksmith in Calgary in 1999.
Next on the programme is the Novices competition, which starts at around midday.  The novice division consists of a 2-man team, consisting of a novice farrier with a 'senior' to assist and Friday's portion of the Novice competition focuses on making front shoes.  On Friday evening, there is a braai for competitors at Alba Guest Farm in Durbanville.
On Saturday, the Novices are tested on making hind shoes and then it's time for the Intermediate, Advanced and International Advanced candidates to test their mettle.  All competitors are required to make the same shoes, but are judged according to their respective categories.  Winners of those classes take on one another in the Shoeing Class, in which competitors are judged on their trim, shoe fit, etc.  On Saturday evening, the SAAPF will be hosting a function to which members of the public or any interested parties are welcome and this will be hosted at the Cape Hunt & Polo Club in Durbanville, wth a spit braai, open bar and DJ.  Tickets are available at R200 each.
Sunday's events include the final shoeing classes and final prize giving.
Members of the public are welcome to attend any or all of the event for a token R10 door fee to help towards costs.
International Participation
WC Chairman Glenn Zimmerman says, "Approximately 90% of our association competes and we are expecting visiting participants from the UK, Australia, Europe, the USA and from across South Africa."
"Spectators can expect to see true old farriery with some of the best artisans from across the world forging and making shoes from scratch.  It is all done in the traditional way on coal fire – no gas – which is interesting in and of itself, but which we also believe forms an integral part of a farrier's skill set.  The SAAPF is in its second year of hosting an international conference and competition and we strongly believe that the element of competition, which attracts participants worldwide, helps raise local standards and forms part of farriery continuing professional development.  Our aim is to raise the standards of farriery in South Africa in order to contribute to the overall welfare of horses and R100 from each competition entry fee is donated towards the Horse Care Unit."
"There will also be food trucks, craft beer trucks, possible wine tasting truck and stalls from tack shops and feed companies."
Anyone interested in attending, supporting or sponsoring, please contact National Secretary Catherine Zimmerman on 071 738 3449 or email [email protected] for more details.
For a taster of what's to come, check out footage from last year's event:-
‹ Previous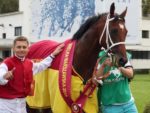 Team Valor's Polish Wonder Horse