Some news of interest as it involves racehorse owners Markus Jooste and Braan Van Huyssteen.
BD Live reports that growth-hungry Steinhoff International Holdings has gone on yet another shopping spree, this time acquiring well-known domestic footwear retailer Tekkie Town for an undisclosed amount.
This is the integrated retailer's third acquisition in the past six months after it acquired UK-based discount retailer Poundland and US-based Mattress Firm, for which it is still awaiting shareholder approval.
Steinhoff has been on an impressive acquisition drive ever since it bought Pepkor for R62.8bn in 2015.
Tekkie Town operates 302 stores in Southern Africa. The acquisition will bolster the group's general merchandise category, which includes Pep, Ackermans and Shoe City.
Steinhoff released annual results on Wednesday, reporting double-digit growth for the 12 months to June 30.
‹ Previous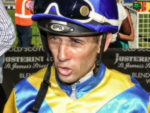 Delpech Is Okay