In June 2016, prominent owner Brian Burnard voiced concerns over a number of issues pertaining to racing in KZN, including track management and the level of stakes, and publicly appealed for the formation of an independent KZN owners' association.
In pursuit of this objective, a constructive meeting was held with Gold Circle on 16 August 2016 and, with the KZN Operator receptive to the formation of an owners' body, Mr Burnard called for interested parties to contact him in order to determine the viability of the initiative (for anyone who has not yet expressed an interest, but would like to, Brian may be contacted on: [email protected])
With sufficient interest received to support progressing to the next step, Mr Burnard confirmed that the relevant paperwork has been lodged with the Registrar and is currently awaiting approval. Once the registration process has been completed, it is intended to schedule a further meeting with Gold Circle to formalise the way forward.
‹ Previous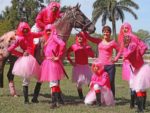 Greyville Goes Pink – For Great Cause