Run For It (photo: hamishNIVENPhotography)
When life is a bit up and down, with too little of one and altogether too much of the other, it helps to have a cheery story to restore one's faith in humanity and serve as a reminder that while there are clouds, there are also silver linings and happy endings.
Good homes after racing used to be more or less a given, but like so much else, life has changed. With our Thoroughbreds now facing stiff competition from purpose-bred sport horses, their futures are a lot less certain and every horse finding a good forever home is a little victory. The retirement / rehoming of racehorses is one of my pet subjects, so when I hear stories of racehorses finding great second homes, it really makes my day. When I hear stories of my favourites landing with their backsides in the butter, that, to quote a friend, hits me right in the feels.
This one starts with luck. Or rather, perhaps, a lack of it. As I've written before, luck is a funny thing. We're either in luck, or having a bad run of it. Gary Player said "The harder I work, the luckier I get", Oprah Winfrey feels that "luck is preparation meeting opportunity". However, when it comes to racing, it's often better to be lucky than good and perhaps one of the finest examples of this was the Snaith Racing charge, Run For It.
Run For It
Run For It was a Snaith stalwart. Bred by Maine Chance Farms and consigned on the 2009 National Yearling Sales, the son of Dynasty out of the Jallad mare Running Rhythm, was knocked down to John Freeman for R230,000. John kindly retrieved his notes for me and remembers that he and Jono Snaith thought enough of the colt to buy him on spec.
The colt raced in the interests of Messrs J Mahony, C.W. Nelson & Newbury Racing and ran in Bill Nelson's distinctive black and white silks. Run For It is a plain bay horse, much in the same mould as his sire, but is such a high quality individual that it was impossible not to notice him. I was quite mad about him on the track and equally mad when he never seemed to have much luck in running and with several near misses and more than his fair share of hard luck stories, retired without ever achieving the record I felt he so deserved.
Frustrating Career
A promising 3yo, he won the Listed RA Stakes at Fairview in 2010, was 0.25 lengths behind stablemate Solo Traveller in the Cape Guineas, just squeaked out of the 2011 Peninsula Handicap, 2 lengths behind Past Master in the 2011 J&B Met and during the KZN season he was a neck behind The Apache in the 2011 Daily News and 5.5 lengths behind Igugu in the Durban July. As a 4yo, he was just over 2 lengths second to Variety Club in the Matchem Stakes and just over a length behind Chesalon in the Premier Trophy. In his second crack at the Met with Bernard Fayd'herbe in the irons, he ran a blinder, mounting his challenge down the straight only to get baulked for a run and having to check, but gathering himself again to fly at them and finish 1.35 lengths 4th in a wall of horses including Gimmethegreenlight, Beach Beauty, The Apache and Astro News.
He resurfaced 10 months later, finishing second to up and coming Capetown Noir in a 1400m progress plate. Beach Beauty held him off in the 2012 Premier Trophy and he finished a little over 3.5 lengths off Variety Club in the Queen's Plate, along with Jackson, Pomodoro and Martial Eagle. He contested a third J&B Met before heading back to KZN for the winter season where he put up a creditable performance in the Drill Hall Stakes and picked up a first place cheque in an Allowance Plate ahead of his second crack at the Vodacom Durban July. Beautifully positioned by Sean Cormack, he duelled first with the diminutive Do You Remember and then Heavy Metal down the straight, only to be pipped out of it by a neck. While I would not deny S'manga his historic win for anything, I was very heartsore for my beautiful bay friend.
Damn Unlucky
I was not the only one to feel frustrated. Dynasty's stallion manager, John Freeman comments, "He was a beautiful horse and we had high hopes he would be one of Dynasty's best sons." While those are big words, John's convictions are backed up by the fact he commissioned a large painting featuring star charge Dynasty in the foreground with his best progeny depicted behind him. "Bearing in mind, this was done in 2014, so we had Irish Flame, Beach Beauty, Jackson, Run For It, Legislate and Futura. Run For It was definitely of that ilk, he was just damn unlucky," reflects John.
Justin Snaith concurs. "He is by far the best horse I've trained that hasn't won a Gr1. He was extremely unlucky during his career – either the pace was wrong, or he found interference or got baulked – he should have won the Met, but just couldn't get a run. But he was a stunning horse with an amazing temperament – and every day was a good day for him. As far as he was concerned, every day was a Durban July. He would come out of the box and just glide down the sand track. I've had very few horses that could move like he could. He was an absolute natural. He was just a happy horse and an absolute pleasure to train."
Second chance
The best luck happens just when you need it most. Perhaps due to letting him down so badly on the racetrack, Lady Luck seems to be making it up to him in retirement. At the end of his racing career, Run For It was entrusted to the Snaiths to find him a good home. Occupying such a special place in their hearts, the Snaiths were more particular than usual in placing Run For It, who ended up staying with them for a year until they were quite satisfied they had found the perfect match.
Anthea Ovenstone, who owns former Gold Cup winner In Writing, proved instrumental and recommended close friend, Sarah Southey.
Sarah
Sarah, who was for a time married into the Southey breeding dynasty and has recently married local owner Barry Rae, admits she wasn't actually looking for a horse. In fact, having ridden in her teens, she hadn't actively ridden for about 20 years, but after meeting Run For It she simply couldn't resist and offered him a forever home on her beautiful property in Tokai. I rang up and managed to wangle an invite to go and visit.
Because one gets a little possessive over your favourites – well, I do anyway – it is a peculiar feeling meeting someone who has a horse you like – it's a little embarrassing, but is probably best described as feeling like a jealous ex girlfriend. While I was happy that Run For It had a good home, I was not going to be easily won over! Quite ridiculous as it is none of my business at all, but there you go.
However, any reservations I might have had evaporated the second we arrived as Sarah is possibly one of the nicest people I have ever met. Tall, with a mane of blonde hair and a warm, inviting smile, Sarah met us at the gate sporting a broken arm. My initial alarm that it may have been a riding accident are waved off – 'it was my dog!'
Top class
Confirming my impression that she really is top class and has her priorities straight, the initial greetings were kept brief and we went straight to the horses. Run For It shares a paddock with two other retired Thoroughbreds – Bassoon and Gloves Off – as well as a herd of 9 springbok. Run For It was the first to leave the group and stroll up to say hello. His ears were pricked and he was alert and happy – even more so when he realised there are carrots in the offing. Having been wrapped up against the slight chill, Sarah took off his rug for us to get a good look at him.
"We call him Rufi, from the initials of his name – not because he looks rough," she explains somewhat apologetically. He certainly looks anything but. He arrived at his new home in July 2015 and the schooling and hacking have done wonders. He is beautifully muscled and filled out and seems a shade taller than I remember. His coat is fine and glossy, even on such a dull day, and his eyes shine with kindness and intelligence. In short, he reflects all the love and attention that are so clearly lavished on him.
Sarah explains, "He let down really easily. After he arrived I gave him a few days to settle in and then took him for a ride in Tokai forest." When I point out that that's quite a brave / mad thing to do, she laughs, "A few people have said that actually, but I never really thought about it until afterwards. Chris used to ride him as a lead horse on the gallops and on the beach, so it wasn't entirely new to him. He was a bit spooky on the first outing and did get a little excited when we got to a stretch of sand track, but other than that he was fantastic. And he's been that way ever since," she says fondly.
Settling in
"When we first started, his main thing was wanting to do everything fast, so we had to work on that, but he's really clever and athletic. He likes to play in the paddock quite a lot and where other horses might slip or pull a muscle, he knows how to handle himself and is always fine. From the minute you get on his back, he does everything for you and tries so hard. He is such a special horse," she says, affectionately tidying his forelock.
We get a grand tour of the stables, which are light and airy with a gorgeous view over the mountains. I notice a few unused boxes and Sarah reveals there is the prospect of another special addition. "Sue Snaith is keen for us to have Jet Explorer when he retires. The two were paddock mates while they were in racing, so it would be nice for them to retire together. I don't know that I really have time for another one, but Sue can be pretty persuasive!" she laughs.
As we sip coffee on the stoep and watch the horses graze happily with their springbok friends, Les Carlyon's quote springs to mind – "This is what makes racing interesting – horses and people."
I think happy endings are quite good too.
‹ Previous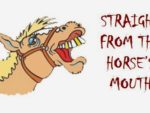 Vaal Today – First Timers