Trainer Johan Janse van Vuuren celebrated what must go down as  the happiest raceday  of his career at the Vaal on Saturday. His final score of four successes came with her share of heart failure and cold sweats though – flying up in the shadow of the post to win by a whisker.
There is little doubt that despite the initial trepidation and neigh-saying, the day that replaced the Vaal's original Emerald Cup sand flagship turned up some enjoyable and competitive racing.
The races were exciting, the large fields made us want to have a flutter and the power player yards failed to dominate the show – as so often tends to happen on the Gr1 days.
That made it a genuine rush and gave the challenge an edge – and one man that will no doubt agree with our sentiments is Johan Janse van Vuuren.
He would have been happy with his hat-trick, when he gave Randall Simons a leg-up on Green Pepper for the R125 000 Sophomore 1000.
The inexperienced filly was taking on the stakes performed very classy Var colt Rivarine in receipt of 6,5kgs and looked to have something to prove after a six week break, following her excellent second to the top-class Hack Green in the BSA Million Sprint at Scottsville.
And when Andrew Fortune, exuding his typically confident body language, brought Rivarine gliding through a  midfield gap at the 250m it looked race over.
The son of Var is loaded with ability and was going on to win his race – that is until Simons pulled the trigger on Green Pepper.
The filly sprouted wings as she wore Rivarine's lead down – getting up on his outside to win by a nose in a time of 56,62 secs.
Those that had banked Rivarine in the Pick 6, and were queuing to bank a healthy dividend, must have thought they had seen a ghost – Andrew Fortune himself appearing to turn a whiter shade of pale as his colleague swept by!
We would love to have heard what was said in that final stride – even if it was only a polite 'congratulations Randall!'
Janse van Vuuren paid tribute to the hard work done by Simons at his yard and also commended his jockey for his sacrifice in making the weight.
The Varsfontein Stud-bred winner is a daughter of Gimmethegreenlight out of the once winning Fort Wood mare, Pimento.
She was purchased for R300 000 off the 2015 BSA Val De Vie Yearling Sale.
Green Pepper looks very promising and has won 2 of her 3 starts with a sterling second  into the bargain.
She has earned R334 375 in stakes.
There will be plenty more to come from her.


‹ Previous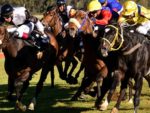 Candice Raises The Bar