The National Horseracing Authority confirms that at an inquiry held in Johannesburg on 2 November 2016, Jockey Andrew Fortune was charged with a contravention of Rule 62.2.2, in that whilst riding PIVOTAL PURSUIT, in Race 7 run at the Vaal Racecourse on 1 October 2016, he rode in an unprofessional manner by pushing Jockey M van Rensburg, the rider of KINGS ARCHER, when they were racing next to each other at the 200m.
 Jockey Fortune pleaded guilty to the charge and was found guilty of the charge.
 The Board imposed a penalty of a fine of R7 500-00.
 Jockey Fortune has the right of appeal against the penalty imposed.
‹ Previous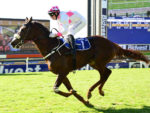 It's In The Bag