The National Horseracing Authority confirms that at an Inquiry held in Durban on 1 November 2016, Trainer Miss B L Impey was charged with a contravention of Rule 39.7.5, in that she failed to vaccinate TRUSTY JIM against Equine Influenza in accordance with the programme of vaccinations as published from time to time in the Racing Calendar. 
Furthermore, Miss Impey was charged with a contravention of Rule 72.1.18 in that as the Trainer responsible for the care of TRUSTY JIM, she presented a passport in which the Equine Influenza vaccination dates had been altered by herself in order to mislead the licensed officials and to create the impression that TRUSTY JIM had been vaccinated in accordance with the Rules of the National Horseracing Authority.
Miss Impey pleaded guilty to and was found guilty of both charges.  The Board, in relation to the contravention of Rule 39.7.5, imposed a fine of R2000.00. 
In relation to the contravention of  Rule 72.1.18, the Board imposed a fine of R25 000, R10 000 of which is suspended for a period of two years on condition that Miss Impey is not found guilty of a contravention of any of the Rules relating to the misleading of licensed officials under Rule 72.
Miss Impey has the right of appeal against the severity of both penalties. 
‹ Previous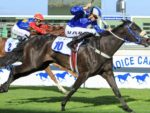 Overheard In Waitrose