There is an odd dichotomy in going racing. I like going to the big days because that's generally when one gets to see the best racing. However, the big days usually entail big crowds, which then mean seeing the good racing becomes a bit of a challenge. So I tend to prefer the slightly smaller days, which still offer great racing without quite so much of a bun fight to get from the parade ring to the rail.
The Queen's Plate goes from strength to strength and seems to have managed a balance between pulling the crowds as well as pleasing them. It's been all change with the Met, with it first losing some of its key races and finally losing its sponsor when Brandhouse pulled out after 39 years. With few people, let alone organisations, afforded the luxury of loyalty in the cutthroat world of marketing and target demographics, it's hard to imagine we'll see their like again. However it will be interesting to see what new sponsors Sun International choose to do.
Best Kept Secret
With Avontuur at the helm, Fillies Guineas day never failed to deliver, but the new sponsors are still finding their feet and putting their own individual stamp on the day.
Thank goodness then for Choice Carriers and the Choice Carriers race day, which is probably one of the best kept secrets on the local calendar. It is serious racing without all the seriousness and makes for a really good day out. It is low key enough to make do without all the hype, razzmatazz and gimmicks of the so called 'bigger days' and as it usually draws all my favourites from across the industry, it's a great opportunity to catch up with folks who either don't like big crowds, or otherwise don't always make the short list on the 'flagship' days when the Very Important racing People flee in the wake of all the VIP's. Much like Avontuur, the Choice Carriers folk use their race day to celebrate friends and family and all the people who help keep the lights on in our industry. Stud staff steal a few hours out of the foaling barns to see the results of several years' work come to fruition on the tracks, there are friends and clients past and present which makes for a fun and interesting crowd of spectators and from a personal perspective, I can vouch that it's much more fun bumping into my vet at the races than it is at the surgery!
Manageable
The 9 race card is still a fairly manageable number – unlike the marathon 12 – and now 13 – races one faces on Queen's Plate and Met days. The 1pm kick off time is also very user friendly for visitors, although finishing at 6pm is hard on the grooms and stable staff, who still need to hose and cool out horses from the last race, before the drive home to feed and settle their charges in for the night and I'd imagine most don't get to think about going home until at least 8pm. It's worth pausing to say a huge thank you to all the folks who work so hard so that the rest of us can have a good day's racing.
The Sun Met bridge that was constructed at Kenilworth last week was conspicuous by its absence because I believe while there was consultation with the trainers and jockeys (yay) it did not meet with approval (boo) and has been dismantled for the time being for safety considerations.
However, there was some really wonderful racing with some exceptional horses on show and some of the best in the business showing them off. We had visiting jockeys in Anton Marcus who piloted home the very smart looking Table Bay in the Cape Classic, Gavin Lerena was victorious on Captain Courageous, Triple Crown hero Karl Zechner was also in town and how nice to see Sean Veale and Dennis Drier finding their stride in the Cape. It was fun to see our Callan Murray in action and he showed why he is champion apprentice in two different countries, riding a beautifully judged race on Ektifaa.
Thanks also to visiting trainers Mike de Kock and Alan Greeff for travelling horses all the way down as well as all our local yards who supported the day so enthusiastically. The field for the afternoon's Pinnacle Stakes alone was worth the drive to Kenilworth. What a pity that Racing, It's A Rush overlooked all the plum angles of the day – fabulous visiting jockeys, Marinaresco, the most exciting 3yo of last season and runner up in the VDJ stepping out for the first time this season, the Snaith's fabulous giant Zodiac Ruler, the unbeaten The Secret Is Out, etc etc – but hey ho.
The stories that keep us coming back
One of my favourite stories of the day was 'million dollar jockey' Heavy van der Hoven thrilling the crowds yet again on the largely ignored – in the betting and the race calling – Silicone Valley from the Glen Puller yard in the 1200m Pinnacle Stakes.
'Silicone' comes with a back story almost as extraordinary as his famous stablemate Illuminator – incidentally owned by most of the same partners. Despite being credited to Klawervlei in the programme, Silicone Valley was consigned by The Grooms' Co-ops c/o The Alchemy on the 2012 Cape Premier Yearling Sale. He was knocked down to Puller Racing for R150k and his convincing debut win in November 2013 prompted Karl Neisius to tell the connections that they had a very nice horse on their hands. Unfortunately, after his second run, they found out that he had a knee chip and operated to have it removed after which Silicone Valley was off for nearly a year. He came back on 29 October 2014 to win as he liked under Chris Puller, before running second a month later. Then his other knee started giving trouble and he was off for nearly another year before things started to settle and he now has 5 wins and 5 places from 12 starts. Stable assistant Warren Misplon commented, "One can only imagine the possibilities had he been a sounder horse. He lives in ice and loves going to the beach, so for now we'll nurse him along and probably take a shot at the Diadem. We don't want to run him around the turn and put pressure on that near fore knee, so we'll just keep him up the straight, but this will probably be his last season and then he'll go and retire out on Glen's farm."
'Heavy' gets a lot of support and encouragement from the Puller yard patrons and it has been rewarding to see him grow in confidence and ability. Given the highs of the Million Dollar fairytale, the lows suffered by the horses' connections and their tenacious horse who seems to run on pure heart, these are the horses – and the stories – that keep us coming back for more.
The devil is in the details
There is a rather fun Facebook page titled 'Overheard In Waitrose'. It's mainly a bit of silliness, poking fun at people for being pretentious, but humour is a good tool for people to express their opinions in a lighthearted way which hopefully still delivers the message in a manner the target finds acceptable.
There are of course ways and means of delivering constructive criticism, and of course no matter how it is framed, it sometimes remains hard to swallow on the receiving end. Nevertheless, without feedback, nothing ever changes or improves, so it's important that things do get said. Perhaps a little discretion should be exercised in terms of how they are said and by whom and a little more attention paid to the message than the messenger, but that is a discussion for another day.
Getting back to my point, the new wording of NHA rule 72.1.43 about minding our P's and Q's makes voicing an opinion even harder, but perhaps instead of 'Overheard In Waitrose' we should start an 'Overheard in the Parade Ring' page for those of us with criticism (constructive feedback?) on matters, without falling foul of the NHA rule.
Raspberries and red roses
So while I'm dishing out thanks and praise, ALL the horses looked fantastic on the day and were a credit to their stables. However, while there are a number of yards who always go to great lengths to ensure that their grooms are as well turned out as their horses, there are still a number who do not. While it's not made compulsory by the rules – yet (who knows what next week's Registrations and Changes Report might hold !), owners and connections have rules about what may and may not be worn in the parade ring and yet grooms wear whatever they like. So my 'Overheard in the Parade Ring' moment from Saturday relates to grooms' attire. Surely, if these good folk are leading around hundreds of thousands of rands of horseflesh, it shouldn't be too much to ask that they are neatly dressed – even if it's only for their parade ring appearance?
Also, details matter and whoever worded and printed the 'win even though you loose' poster / notice next to the parade ring needs to go back to basic primary school English and brush up on spelling and grammar. It's a little thing, but surely, as it IS a little thing, it should not be too difficult to get right.
Lastly, a huge double thumbs up to Snaith Racing for supplying their own lead horse for Le Harve in the Cape Classic in the form of Glacial Assault. The eye-catching grey, better known as Ice, did not set the track alight in his racing days, but as part of Justin's polo string has already been WP Polo Pony of the Year three times and is set to make a comeback this season. He also doubles up as a lead horse and is often seen carrying Chris to and from the track for morning gallops. Ice was BEAUTIFULLY tacked up and turned out, as was his rider, sporting a natty 'pink' hunting coat and tie with Ice sporting matching bandages. The pair proved that they are more than just eye candy and when Le Harve broke through the stalls and bolted the course, Ice calmly collected him near the road crossing and brought him safely in. Nicely done !
With the last of the year's foals still to be caught, drafts to be readied for the Ready To Run sales and the Cape season swinging into full momentum, there may not be breathing room again until sometime next year, so now seems as good a time as any to wish everyone a great season's racing and I hope to see you all in the parade ring – if not the winner's enclosure – very soon.
‹ Previous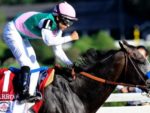 Breeders' Cup – Excitement Builds