MATTHEW DE KOCK FOR MIKE DE KOCK
Race 3 – ALAADEL (5): A nice horse – it all depends on how green he will be but he is capable of running a big race.
Race 4 – ONE OF A KIND (12): She is a small filly but shows lots of courage. If not too green, has a place chance.
DIANNE STENGER
Race 3 – CHEAT THE CHEATERS (7): Will need the run.
Race 3 – LEEUWPOORT (11): Will need the run.
ERICO VERDONESE
Race 4 – SAVETHEBESTFORLAST (13): No comment.
Disclaimer: A Gold Circle information initiative. The views and opinions expressed in this article belong solely to the quoted author and stable represented. None of Gold Circle, the author, trainer or trainer representative, accept liability for any damages that may arise from any reliance placed on the views expressed therein.
‹ Previous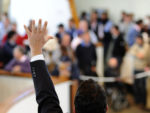 Reminder – Mixed Sale