Having been lucky enough to spend a good few Christmases in the UK, it is my experience that there is something distinctly magical about the cold and the dark (suddenly all the tinsel and Christmas lights make sense for a start!) and things like roasting chestnuts, mulled wine and hot meals all seem to work – unlike a Tur-duck-en with all the trimmings on a sweltering South African December 25th, which does nothing other than scupper your chances for a post lunch swim.
Suffice to say English Christmases tend to be fairly big and one of the traditions that has grown up alongside it, is the Christmas advertising. While that's a pain for some (there are only so many times you can jingle your bells and still have a smile on your face), the big retail stores go to great lengths with their shop fronts, coming up with elaborate designs which have also become anticipated events. As I'm no longer able to wander slowly past Fortnum & Mason, Harrods or Harvey Nix in the December drizzle, I live vicariously through the electronic media and one of the more interesting features of the Christmas landscape is the competition between the big retailers in producing a Christmas ad with the likes of Marks & Spencer and John Lewis turning it into an art form.
Communicating from the inside out
As the latest ads have just been released for Christmas 2016, it got me thinking about advertising and all the hows and whys of how big retail chains get people to buy their products. There is an absolutely fantastic TED Talk by Simon Sinek "Start With Why" which deals with the thorny problem of marketing things successfully. In it, Simon explains his 'golden circle', which is actually 3 concentric circles of why, how and what, with why in the centre, surrounded by how and what making up the outer ring. "Every single person, every single organisation on the planet knows WHAT they do 100%," he says. "Some know HOW they do it – whether you call it your differentiating value proposition or your proprietary process or your USP. But very, very few people or organisations know WHY they do what they do. And by why I don't mean to make a profit – that's a result. That's always a result. By 'why' I mean what's your purpose? What's your cause? What's your belief? Why does your organisation exist? Why do you get out of bed in the morning? And why should anyone care?"
Most organisations, businesses and even people communicate from the outside in (ie starting with the what and then the how before getting to the why). "We say what we do, say how we're different or better and expect some sort of behaviour – a purchase, a vote, something like that." While this is the way most people operate, Simon's theory is that "The inspired leaders, inspired organisations, regardless of size, regardless of industry all think, act and communicate from the inside out." Why? "People don't buy what you do, they buy why you do it." In other words, if you are not driven by a genuine passion for what you do, it will be difficult to convince anyone else to buy into it.
As racing marketing execs are constantly under the cosh to try and find a newer, younger demographic, and we've got high flying execs in big offices planning big budget marketing campaigns, it is intriguing that two jump jockeys having a laugh at morning gallops in south east England with nothing but a cell phone, a couple of props and two very patient horses are proving a surprise social media hit. Actual knowledgeable racing people successfully promoting racing? I decided to find out more.
Wocket Woy
For those who haven't met this comedy duo, the team consists of Mattie Batchelor ('Batch') and Marc Goldstein (The Pwoducer), with an assortment of real life racehorses who are not only in full training, but winning their races too.
Their Youtube videos, posted every Saturday morning, rack up thousands of views and shares on social media. For something that isn't related to a particular race, festival, triumph or disaster, those are pretty interesting figures. English humour can be an acquired taste and with the rather rough amateur phone footage and poor sound, it took me a few goes to get into it, but I confess I'm hooked. Before describing them as 'amateur' gets me into trouble, I mean it in the Brough Scott sense when he said amateur nowadays is used in a derogatory sense – 'he is very amateur'. Put back to it's best, 'amateur' means Amo Amas Amat – a person who loves it.
Also, it's something of a relief to have something real and the sort of thing that you can comfortably watch in your wellies and waterproofs. Wocket Woy is silly, it's fun and it's very, very popular. As I'm interested in anything that gets people involved in racing, I dropped them a line to see whether they'd be up for a chat and – making me the envy of Pony Club mums across the globe – they kindly said yes.
Meeting Wocket Woy
Mattie and Marc, both professional NH jockeys, have been friends for over a decade and both ride out for Sheena West's racing outfit in East Sussex. The phenomenon that is Wocket Woy started a little over a year ago.
Marc (Pwoducer) explains, "It started out on the gallops. Mattie messes about every day anyway and one morning I just decided to film it. I used it for my own Facebook page and had a few likes. When it got to 100 likes, I thought 'blimey, people seem to like it', so we kept doing them. A few people complained they couldn't see the videos – we were a bit illiterate at the start – so I changed all the settings and Facebook nearly exploded. Now we don't dare not do one or I think we'll be lynched!"
Mattie ('Batch') does most of the acting and has developed his cheeky chappie on-camera persona from a character from Only Fools And Horses called Tony Angelino who can't pronounce his 'rs'. "I was a big fan of that episode, so it came from there," he explains.
What it's all about
Generally speaking, each week's clips starts out with 'Batch' giving everyone his standard 'Oh! Morning everyone!' after which just about anything can happen. Mattie says he's got the easy part, while Marc does the storyboarding and filming – occasionally getting in front of the camera as well – processes it on his laptop and then posts their weekly video online every Saturday at 8am on the dot. "But that's the easy bit. It's the planning that takes a bit of thinking and I do lie awake at night thinking about next week's video."
Well, lost sleep or not, it certainly works and their set pieces are an easy, informal way of showing some of the behind the scenes work and activities of a race yard (stables, walker, gallops, yard work, etc). As Batch warned in their first video, "Please do not twy this at home. This is a contwolled awea and I am a pwofessional". The two lads are in fact both very accomplished jump jockeys, with Matt winning the 2014 Hennessey Gold Cup for none other than the late Lord Oaksey and Marc is one of the top jockeys in the South of England with consistent wins and placings at Plumpton and Fontwell. My frame of reference for jump racing isn't all that wide, but everyone knows the Grand National track is the biggest and most challenging of all and both lads have been round the Aintree course. Matt says, "It's the best buzz I've ever had on the back of a horse. We finished 3rd, but it's still the best thing I've ever done. It's the sort of experience you want to do again straight away and enjoy a bit more."
Motivation
Asked what motivates them to keep going in one of the toughest sports on the planet, Marc says, "Matt hit the nail on the head. In 20 years it's never felt like a job. We'd all go out and do it for nothing, we love it so much. We're very lucky to travel up and down the country, working with animals we love, meeting lots of people and having a good time. Getting paid for it as well is a bonus. It's not a 9-5 office job, that's for sure and it is a very different way of life."
Their weekly antics have proved universally appealing, but they don't just appeal – they get out there and cater to their fans too. While Batch and The Producer take us on a weekly tour of racing, they are not afraid of lengthening their stirrups and joining in everything from Pony Club races to the Hickstead Festival and fans LOVE it.
Universal appeal
Interestingly, lads confirm that the first uptake (other than family and friends) was among the equestrian community and they have fans all over the world and are in huge demand for public appearances. "It's a bit like being a footballer, without the salary," quips Marc.
What started out with two NH jocks messing around on the gallops has developed into, well, no, I rather think the joy of it is that it hasn't developed into anything and is still two NH jocks messing about on the gallops and taking us all along for the ride, but they now also have a website, Facebook page, Youtube Channel, Instagram and Twitter accounts, a Wocket Woy racing syndicate and even a line of Wocket Woy clothing to go with it.
They genuinely love horses and racing and sharing their passion for what they do through social media helps entertain, educate and build relationships with people all across the horsey spectrum and beyond. And that winds up being a big plus for racing. As one fan posted on Facebook, "I adore Saturdays . Just to see Nobby, Woy, Batch and the Pwoducer having fun makes everything better."
Sounds like a winning idea to me.
‹ Previous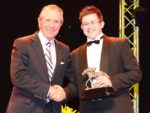 Vaal Today – First Timers