Andrew Fortune may possibly have dealt any hopes of a second jockey's title a mortal blow after his antics in the fourth at Turffontein on Saturday.
Nine winners behind Greg Cheyne and seven behind Gavin Lerena with nearly half the season ahead, Fortune has been prepared to tour the country in search of winners this term and his prospects of a second title were promising.
But although a supremely talented horseman, Fortune is never far from controversy, and he was at it again on Saturday. Riding Bay Style for Gary Alexander, Fortune injudiciously waved his whip in the face of third-placed Lerena-ridden Flipflash which had social media in a tizz.
From the couch and watching numerous re-plays, the damage done to Flipflash was marginal if having any effect at all as the only blow landed appeared to be on the sheepskin noseband of Flipflash who never faulted.


The stipendiary stewards immediately called a race review followed by an objection which was not a surprise given the incident – the grounds being intimidation in the closing stages.  That it was over ruled was also not a surprise given that the incident happened a few jumps from the line and Flipflash would never have got to Bay Style in any case.
But there is often a fine line between race-riding and winning at all costs.
Racing alone up the inside fence, Fortune deliberately let his mount drift across to join Flipflash and favourite Handsome Henry. A perfectly legitimate move given that a horse generally tends to try just a little harder when racing with company.
What happened next is what got many people's gander up.
Bay Style was roughly half-a-length clear when joining Flipflash and under a soft left-handed stick. However, Fortune's flailings changed from down the neck to 'stirring the porridge' with Flipflash catching one on the noseband.
Just how this incident is viewed by the authorities will be interesting in its self.
Read more here about the official NHA reaction
www.goldcircle.co.za
‹ Previous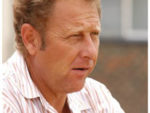 Ownership Docs – Trainer Fined