Great Britain may be ruled by Queen Elizabeth, but is owned by a syndicate of South Africans!
Current Highlands resident Great Britain (Green Desert – Park Appeal), is a full brother to Cape Cross, the sire of horses such as Ouija Board, Sea The Stars and Golden Horn. Imported to South Africa in 2011, off a small base Great Britain got off the mark with Roy's Goddess on 27 January 2015 and Wrecking Ball became his first graded stakes winner in the Gr3 Tommy Hotspur Handicap on Valentine's day 2017.
Purchase
Ian Levitan is one of the major shareholders in Great Britain and relates that Ryan Maroun found the horse when he was advertised on Gavelhouse as part of an insolvent estate in New Zealand. "Grant Maroun phoned me and said 'It's a full brother to Cape Cross. What do you think?' I said 'make a stupid offer of R1 million and give them 24 hours to make up their mind.' We were a bit sneaky and did it on a Friday as well. Within about 8 hours they came back and said they accept and basically that's how we purchased him."
"At that stage, he was owned in a three-way partnership between myself, Grant Maroun and Philip Kahan. When Great Britain came into the country, he had to go via Graeme Koster to do his 21 days AHS quarantine. He covered two mares there and then moved down to The Alchemy in Robertson. As he got off the float, he covered one of my mares, Summer Sweet Song. As it happens, the produce of that mating, Graci May, won at Fairview at the end of January."
Setback
It seems Great Britain may have had a mishap in transit and the following day he was found to be lame. "He was taken to Drakenstein Veterinary Clinic where he spent the next 3 months. It turned out that he had a very bad infection in his carpal canal and it was touch and go for a while, but he finally came out again in December. After those three months in hospital he's now got an absolute thing about going into a horse box or a stable or any enclosed space, so he lives out in the veld."
Because of all the setbacks, Great Britain produced 22 foals in his first South African crop, of which 17 raced and 12 have won.
It was during his hospital stint that Grant Maroun and myself bought out Philip Kahan's shares in Great Britain and he was relocated to Highlands Farms Stud. Ian continues, "I phoned Mike Sharkey who phoned Antony Beck and said they definitely wanted to get involved, so Highlands bought 15%. When we went to Nationals in 2012, Ashley Parker approached me and said he had actually been interested in the horse while he was still in Dubai. He said he would love to buy a share, so we sold him 2 shares in the stallion as well." "Once he was a stud and starting to do quite well, Hassen Adams approached Grant and bought 10% and John Finlayson bought 10% of him as well, so that's the syndicate at the moment."
Challenges
Ian is no stranger to trying to make a stallion, having previously imported Linney Head. "Great Britain's done very, very well, but if a stallion doesn't throw a Gr1 winner in their first crop, it's very difficult. Great Britain's second and third books were nice, but then the breeders wrote him off. Last season he got about 20 mares. With Highlands being sold, they have said he can stay, but they won't be supporting him anymore, so we are busy looking for a new home."
Ian has 30 mares of his own and points out that stallion fees for that number of horses does add up. "He's a full brother to Cape Cross which has got to be one of the best pedigrees in the country. Where else are you going to find a stallion of that calibre? But if you don't get the support, there's not much you can do. Wrecking Ball has given us a bit of hope. Geoff Woodruff's filly that won last weekend (Street Gaze) is out of a Cape Cross mare and British Royale (Johan Janse van Vuuren) has won 4 of his 9 starts. I don't know if it's too little too late, but we're boxing on and believe he'll pick up a Gr1 winner soon."
‹ Previous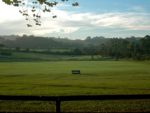 Shongweni Mixed Sale Update