Racing Association CEO Larry Wainstein has pointed out that it is the Racing Association that governs all stake money paid to owners and it is them that foot the bill.
When the decision was made to double the stakes for the Sun Met from R2.5 million to R5 million and to boost the L'Ormarins Queen's Plate from R1-million to R1.5 million it was the RA that had to find the money.
"That money does not come from the sponsors. When a request was made to up the stakes on those races the guys came to me to see if we could afford it. I'm not trying to blow our own trumpet but I regularly get questioned by RA members who feel we don't do enough for them. I just believe there is a need to set the record straight."
Read more in our weekly snippets feature, Short Heads
‹ Previous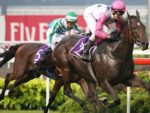 Canada Won't Be Dry!