Veteran jockey Andrew Fortune will be having knee surgery this week, but is only expecting to be out for three weeks.
Fortune had made recent inroads into Gavin Lerena's lead in the National Jockeys Championships, but he now admits a top five finish would be a good result.
Fortune was booked off his rides on Saturday due to swelling in the knee and cancelled his rides for Monday's meeting at Flamingo Park.
However, he did ride on Tuesday and notched up his 100th winner of the season.
The years of attrition from jockeyship has led to arthritis in the knee. He has no cartilage left in the joint. The operation will be in order to clean the knee out, i.e. to get rid of the bone chips etc.
Fortune recently copped a ten day suspension for a riding misdemeanour and will take it while recuperating.
www.goldcircle.co.za
‹ Previous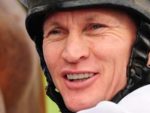 NHA: Strydom Fined