In a Mailbag letter to the Sporting Post in mid 2016, prominent owner Brian Burnard voiced concerns over a number of racing issues in his home province of KZN. Stating that "it serves no purpose trying to ' duck and dive ' the issues" he said "The only solution I can see is for owners to take up the responsibility for their own horses."
Mr Burnard did just that, canvassing for support and establishing the Independent Owners' Association, which held its inaugural meeting on 23 February 2017 in the Members Lounge at Greyville.
In his address, he stated, "The main objectives of this Association is to give the Owners, who are the principal financiers of Horseracing, a voice in all matters pertaining to this sport of ours, and at the same time negotiate the best returns for their substantial investment therein, and afford them a enjoyable experience in Horseracing. Likewise, whether we like it or not, to achieve our goals, while remaining aware of the financial problems that exist, Owners need to bring their side to the party, in keeping their racing accounts up to date, and actively participating in improving the lot of the Racing Industry. And while we strive to achieve these objectives going forward, I believe it should be done in a constructive, and not destructive manner."
Asked why he has chosen to take on this task, Mr Burnard explained that when he got involved with racing, it didn't take him long to realise that owners don't have a lot of input as to how racing is done. "I sat back and thought it shouldn't be working this way. We should at least have a say. And that's really how it started."
Progress so far
The new association has mainly been dealing with the administrative headaches that come with establishing an organisation of this nature, but it's all been done strictly by the book. They are proud to be a registered NPO, they have got a logo and have their website up and running, which includes their Memorandum of Incorporation and application forms for joining. The board currently consists of Brian Burnard (Chairman), Daryll Marscia and Mayesh Chetty.
They are still fine-tuning details such as membership fees, as the majority of IOA members are also members of Gold Circle. "We are looking to work something out with Gold Circle and hope to negotiate a joint fee."
Brian was quick to praise Gold Circle's open door policy. "Gold Circle have been more than open. So much so that we have official representation on the Gold Circle racing committee.
Key areas of concern are the sustainability of racing in the face of rising costs, the implementation of contracts between owners and trainers to ensure a fairer deal for both parties and improved engagement and communication at all levels. Mr Burnard acknowledged that there have already been some 'robust' meetings with stake holders, but felt strongly that change was necessary to implement checks and balances and bring about improved transparency. But it's not just a one-way street. "We have quite a brain pool in our ownership ranks and we hope that we can also bring something to the table to help Gold Circle increase turnover and efficiencies in the long run."
Although there have been appeals for him to make the association a national one, Mr Burnard says they are focussed on KZN for now. "We need to get our house in order and get this model to work. After that, hopefully there will be a natural progression, depending on demand."
Brian also stated that for the IOA to succeed, all Racehorse Owners should get involved, and those that have not yet joined should do so. "Any interested parties can visit our website – www.ioassociation.co.za – where they can download and submit an IOA application form. Alternately, I can be contacted directly at [email protected]"
He further appealed to the racing public at large "not to listen to all the untruths, negativity and rumour mongering currently doing the rounds, pertaining to our gathering of information and ongoing negotiations with Parties concerned. No official decisions have been taken on any matters, and in any event, prior to any such decisions taken, the IOA will firstly consult with its Members for their approval or otherwise thereof. The IOA further distances itself from all the hearsay made by people who have their own agendas, and don't act in the best interests of Racing."
‹ Previous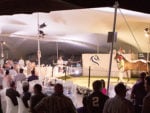 They're All Here