The National Horseracing Authority confirms that at an inquiry held in Johannesburg on 8 March 2017, Jockey Andrew Fortune was charged with a contravention of Rule 58.10.2.
This arose in that he misused his crop by deliberately using it towards and in close proximity to FLIPFLASH, making contact with FLIPFLASH's head in the concluding stages of Race 4 run at the Turffontein Racecourse on 11 February 2017.
Jockey Fortune pleaded not guilty to the charge, but was found guilty of the charge.
The Board, after viewing the patrol films of the race, considering Mr Fortune's record and all other factors presented in mitigation, ruled that Mr Fortune be suspended from riding in races for a period of ten days and that he be fined the sum of R25 000.
Jockey Fortune has the right of appeal against both the finding and the penalty imposed.
‹ Previous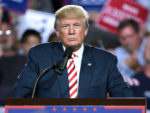 Snaiths Tame President Trump