The National Horseracing Authority confirms that at an inquiry held in Johannesburg on Wednesday 22 March 2017, Jockey Strydom was charged with a contravention of Rule 62.2.3.
This arose in that he failed to ride the horse BARACAH out to the end of Race 12 run at the Turffontein Racecourse on 4 March 2017, thus prejudicing his chances of obtaining fifth place.
Jockey Strydom pleaded not guilty to the charge but was found guilty of the charge.
The Board imposed a penalty of a fine of R2 000-00.
Jockey Strydom has the right of appeal against both the finding and the penalty imposed.
‹ Previous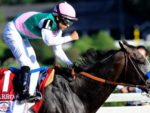 Baffert – 'Nine Is Fine'