World renowned sprint star Rocket Man, once described as "a terror on the Asian-Middle East circuit", has started the first phase of his retirement in South Africa.
Rocket Man, by Viscount (AUS) out of the New Zealand-bred mare Macrosa, was bred by Dean R Fleming and foaled on 17 October 2005. He was purchased by World Wide Bloodstock's Andy Williams and interestingly was originally bound for South Africa. When the deal fell through, Andy picked up the phone to Pat Shaw, who purchased him over the phone for Fred Crabbia.
The elegant bay colt made his racecourse debut at Kranji as an early 3yo, winning by over 6 furlongs on 19 October 2008 under SA rider, Robbie Fradd. He had a total of 3 starts as a 3yo and finished the season unbeaten.
In 2009, his win streak stretched to 7, including the Gr3 Singapore Three-Year-Old Sprint, the Gr3 Kranji Sprint and the first of four Gr1 Lion City Cup wins. Rocket Man tasted defeat for the first time in his career in the Krisflyer Sprint on 17 May 2009, finishing a courageous second to champion sprinter, Sacred Kingdom.
Injury
On Tuesday, 7 July 2009, Robbie Fradd was on board Rocket Man for a routine morning workout when he felt something amiss. On investigation it was found he had suffered a hairline condylar fracture of the off fore cannon bone. It was decided to operate and pin the leg and after surgery, Rocket Man was gelded and rested for the remainder of the year.
Better than ever
Rocket Man returned to the track in 2010, making a winning comeback on 7 February 2010. He then travelled to Dubai for the Gr1 Golden Shaheen on World Cup night 2010 where he was held off the pace by Robbie Fradd, finally bursting from the pack with 200m to go to chase down the leader, but missing by half a length to Kinsale King.
Back in Singapore, he bounced back to best to win a second Gr1 Lion City Cup and was just pipped to the post by Green Birdie in the May 2010 Krisflyer Sprint. Rocket Man posted two more wins at home before heading to Hong Kong for a pair of titanic battles. The first was the unforgettable dead heat with One World in the inaugural Gr2 Cathay Pacific Jockey Club Sprint and the second, the heads-up, heads-down epic in the Gr1 Cathay Pacific Hong Kong Sprint where he went down fighting, finishing a short head 2nd to J J The Jet Plane.
At the Singapore Racing Awards for the season ended 31 December 2010, Rocket Man was voted Singapore's Horse Of The Year, as well as Champion Sprinter and Champion Four Year Old.
Second time lucky
In 2011, Rocket Man kicked off the season with an easy 5 ¾ length win in March, before heading back to the Dubai Carnival for a second attempt at the Golden Shaheen. Getting him smartly out of the gate, Felix Coetzee kept them out of trouble allowing Rocket Man to run a free-striding race and he avenged his 2010 defeat with a scintillating 2 ¼ length win over Euroears.
Rocket Man was back in Singapore in time to notch a 3rd Gr1 Lion City Cup and finally broke his Krisflyer Sprint hoodoo by trouncing Eclair Fastpass 4 ¾ lengths. He followed up with a win in the Kranji Stakes for good measure, before jetting off to Japan for the Gr1 Sprinters Stakes where he finished a courageous ½ length 4th to Curren Chan. On his return to Singapore, Rocket Man won the Storm Racer Stakes on the polytrack before jetting to Hong Kong where he finished an uncharacteristic 12th in the 2011 Cathay Pacific Sprint. It was the only time in his career he did not earn a cheque.
2012
Rocket Man won the Kranji Stakes, his first start of the 2012 season, on 4 March 2012, then it was back to Meydan for the Dubai Carnival where he was denied a Golden Shaheen double by Krypton Factor and finished 2nd.
Rocket Man returned from his Dubai excursion under an injury cloud with a mild ligament strain. Although was treated sufficiently to land a fourth consecutive Group 1 Lion City Cup on 29 April, by mid May the suspensory injury had flared up enough to force a scratching from the 2012 Gr1 KrisFlyer Sprint.
However, his 2012 efforts were enough to secure him a second Horse of the Year title as well as Champion Older Horse and Champion Sprinter for the 2012 season.
After several years of trying to nurse him back to racing soundness, a decision was finally taken to retire him to South Africa.
Interestingly, he is not the first member of his family here. Rocket Man's half brother, Our Giant (Giant's Causeway – Macrosa), raced in South Africa in the Jooste silks, winning at Gr1 level including the 2008 Horse Chestnut Stakes and the 2009 Mercury Sprint.
Accolades
Over a career spanning 2009 – 2012, Rocket Man had 27 starts for 20 wins, 5 seconds, a 4th and one unplaced run for stakes earnings in excess of S$6.7 million, the highest ever achieved by a Singapore racehorse.
He was also the first Singapore-based horse to win an international Gr1, cementing his place in Singapore facing fans affections forever.
Public farewell
At a public send off on Sunday, 4 December 2016, Rocket Man appeared at Kranji one last time to bid his fans farewell. His swansong was scheduled ahead of Race 7, the Rocket Man Farewell Stakes, a S$125,000 Kranji Stakes over 1,100m. With jockey Barend Vorster aboard, Rocket Man was presented with a basket of carrots while 2,000 black Rocket Man caps were handed out to fans.
Rocket Man, alongside his buddy for the journey, Rio De Janeiro, entered quarantine shortly afterwards and left for South Africa on 15 January 2017. After completing the mandatory quarantine period at the Johannesburg quarantine station, he was finally released on Tuesday, 20 February.
AHS transport restrictions prevent Rocket Man from travelling directly to the Western Cape, so he is currently getting acclimatised to his new life at Jane Thomas' Far End facility in the Natal Midlands.
Jane reports that Rocket Man is settling in well and has already made firm friends with her son Luke's old Percheron cross, Bandit.
We wish him a long and happy retirement.
‹ Previous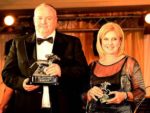 2996 And Counting…