The 2016 Gr2 Gold Cup winner Enaad is one of the leading former SA-based racehorses expected to compete at the Champ de Mars in Mauritius this season.
Close on 130 horses have arrived for the new season, which commences with the running of the Duchess Of York Cup on Saturday, 25 March.
The Australian-bred son of High Chaparral, who raced in the yellow and royal blue of Al Adiyaat SA, won the Gr3 Gold Vase and Gold Cup in consecutive starts in the last SA Champions Season, but battled to regain his form thereafter.
He will join the Gujadhur yard and looks likely to have the Maiden Cup in September as his chief target, where he could face another son of High Chaparral in Parachute Man.
Former Gavin van Zyl trained 6yo Qatar Springs, a winner of six races, has joined the yard of Jean-Michel Henry, who has also brought Brett Crawford's Midnite Zone, a sprinter who has won thrice and placed six times.
Gr3 Godolphin Barb runner-up Beat The Retreat, a former Alistair Gordon runner,  is another highly regarded horse exported to further his career on the island.
Some of the new arrivals are listed below, with new stable name:
Act Of Loyalty (Aus) Gujadhur
Arctic Flyer S. Jones
Blunderbuss C. Ramdin
Enaad (Aus) Gujadhur
Galtero S. Jones
Jama R. Maingard
Lee's Star G. Rousset
Midnight Man S. Hurchund
Midnite Zone J.M. Henry
Mighty Hash A. Perdrau
My Boy Willie R. Maingard
New Golden Age A. Perdrau
Qatar Springs J. M. Henry
Rogue Runner C. Daby
Saracen King  J. M. Henry
Sir Edmund A. Perdrau
Special Secret S. Jones
Spy Fiction  S. Hurchund
Starsky C. Daby
Together Forever S. Jones
Beat The Retreat  P. Merven
Belenos  P. Merven
Global Flyer (NZ)P. Merven
Gold Coast Captain P. Merven
Gold Medalist P. Merven
Gstaad P. Merven
Ice Run P. Merven
In The Loop P. Merven
Jungle Path P. Merven
Marron P. Merven
Mighty Hash A.Perdrau
Nation Builder P. Merven
Patrol Mission S. Jones
Prince Ariano S. Hurchund
Roman Society P. Merven
Soldier's Code P. Merven
Talbec (AUS) P. Merven
Tanjiro P. Merven
Varadiso P. Merven
‹ Previous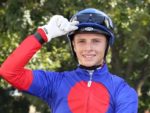 Unprofessional Ride – Hewitson Fined