I think it's safe to say that rule number one for pundits in Singapore is don't tip against DEBT COLLECTOR.
The reigning Singapore Horse of the Year hasn't been beaten since November 2015 and his winning streak stands at eight. In fact Michael Rodd fell off the last time he lost and the Aussie hoop hasn't been beaten on him when he has remained in the saddle.
And if that isn't impressive enough, his first up win over 1400m under similar conditions to his assignment tonight (race 6), was easy enough to think he is better than anything Singapore has to offer.
The step up to the mile suits as he prepares for his first overseas assignment in Dubai later in the month and the question should be, who runs second?


But don't discount a very progressive 3YO in JUPITER GOLD with just 49kg.
The Australian-bred rig has stamped himself as a horse to follow in the Three-Year-Old series and while he has one hand on the Group 1 Guineas at WFA in May, he could pinch a race like this with the featherweight.
Both horses will be storming late and while it's impossible to pick against DEBT COLLECTOR, JUPITER GOLD will keep this more than interesting.
Best Bets: (DEBT COLLECTOR race 6, win), (RETURN TO JUSTICE race 8, win) and (LADRONE race 3, value).
Bankers for Jackpots: Race 6 (1), race 7 (1, 2, 8 and 12), race 8 (1, 3, 4, 9 and 10), race 9 (1, 2, 3, 5, 6, 7, 9 and 10).
Race cards in Singapore and Larry Foley's synopsis follows and for updates on all runners go to www.kranjiracing.com
Please note the odds listed are "reference odds" only.
Race 1
Selections; 6 LIVELY DRAGON – 4 MILLION ROUND – 8 MOTHER NATURE – 2 ENTHUSE
It may be case of which horse shows up on the day in the opener with most having some winning hope on best form. LIVELY DRAGON is one such horse and he wins this if he shows his best recent form, which is better than Class 5. But MILLION ROUND has the recent runs on the board with two wins from his last three starts. His last start win was on the turf but three starts ago he won on the the Poly and he looks the benchmark. MOTHER NATURE is resuming after a good run of form and her recent trials suggests she is ready to show her best with blinkers removed. Others that win without surprising are ENTHUSE and LUCKY SUGAR in a race that suits with the market best guide on the rest of the field.
1 BIMALA ** Yet to win on the Poly but appreciates drop to Class 5 and pay to keep safe. 8.00
2 ENTHUSE *** Showed last start this type of race is his caper and should thereabouts throughout. 8.00
3 LUCKY SUGAR *** Has struggled in Class 4 but won similar affair to this five starts back so have to consider. 20
4 MILLION ROUND *** In fine form and has won on this surface so continue to follow. 4.00
5 PERFECT CURIOSITY ** Went very close this Company over 1400m on turf last start and might be better suited that trip. 12
6 LIVELY DRAGON *** Just fair with support last start similar affair but wins this with winkers off on best form. 4.00
7 BELIEVE IT OR NOT ** Yet to place in seven career starts but shown pace at his last couple and could run a cheeky race. 20
8 MOTHER NATURE *** Resuming sans blinkers with some good trials under her belt and can win this. 8.00
9 THE RAID ** Maiden who ran on well enough last start to play a part in the finish if race run to suit. 20
10 KNIGHT HARLOOK * Disappointing last couple and easier to ignore. 33
11 REAL HERO ** Issues (respiratory then lame) when supported at his last two starts so pay to keep safe. 8.00
12 LOYALTY'S ANGEL * Has pace but tends to struggle late. 33
Race 2
Selections; 12 GOLD REWARD – 1 MR EXCHEQUER – 8 KHUDAWAND – 9 ZAC ACE
A maiden with plenty of depth but the on-pace runners may get their chance to break through on a track (E course) that should suit. GOLD REWARD had excuses not to race handier on debut and his effort to the wire over this trip suggests he can win sooner than later with 53kg a factor. MR EXCHEQUER is probably the more obvious on-pace runner and you would expect J Powell will try to make every post a winner from gate 2. From the trials both KHUDAWAND fresh with blinkers added and ZAC ACE resuming with winkers should race well and the pair should come in for support. SUPER GENIUS can also race handy (but is sans blinkers) so has to be considered while PARAGON STAR and ELITE EMPEROR both can win on form but will need luck from the wide gates.
1 MR EXCHEQUER *** Just missed when resuming and placed last start over this trip. Hard to beat with gate 2 a bonus. 5.00
2 PARAGON STAR *** Did it tough enough last start in similar affair to follow although has drawn wide again. 8.00
3 ELITE EMPEROR *** Came in for heavy support last start and that effort suggests he is worth another look with blinkers off over 1400m. 6.00
4 CONFOUND ** Not a mile away last start and can improve again at odds. 33
5 MAGNIFICENT * Blinkers back on but not for me. 100
6 BIG REGARDS ** Not a mile away when blinkers added last start over 1400m but like to see over longer than this. 20
7 CHOSEN HARVEST * Resuming and no. 50
8 KHUDAWAND *** Shown more than enough at two start and recent trial to think he wins soon with blinkers added for this. 5.00
9 ZAC ACE *** Freshened with some nice trials after a solid debut and can win with winkers added. 6.00
10 SUPER GENIUS *** Blinkers off and tongue-tie on after stable change. Can race on the pace and wins a race like this without surprising. 8.00
11 MILITARY MIGHT * Gets winkers added but needs much more than that. 200
12 GOLD REWARD *** Debut effort over this trip good enough with excuses to win this. 5.00
13 MATSURIBAYASHI * No. 200
Race 3
Selections; 1 LADRONE – 11 MUSCULAR CAPTAIN – 7 SPLICE – 8 ZEUS WARRIOR
Nothing jumps off the page in this Class 4 field, which could give LADRONE a chance to win at his first crack over 1400m. The 5YO is very honest and given he will lead on a track that suits, he will be very hard to run down. MUSCULAR DRAGON is a 3YO who has shown he is up this level. He too can race handy and he should be in the finish. SPLICE probably is the best suited to 1400m at this level and regular hope Michael Rodd will give him every possible chance from gate 3. The former Malaysian, ZEUS WARRIOR, has shown more than enough at three starts in Singapore to think he wins soon at Kranji. Of the rest, keep ALLEZ safe if he gets a start as his first up run was solid and he will improve for the run.
1 LADRONE *** Query at the trip and drawn wide but should go forward and be hard to run down late. 6.00
2 HADES ** Form reads terribly but excuses last start and could give a sight at odds. 33
3 BILLY BRITAIN ** Honest and will be running on but this is as short as he wants it. 6.00
4 GOLD HILL * Resuming with winkers and OK trial under his belt but race form average. 100
5 SAND BANK ** Has plenty of early pace but has struggled late in races. Blinkers added may help. 20
6 OCEAN DE LAGO ** Resuming and will work into this late but may need longer again. 12
7 SPLICE *** Steps up to more suitable trip and in this a very long way. 4.00
8 ZEUS WARRIOR *** Excuses last start and pay to follow on three good efforts in Singapore. 8.00
9 SUN EMPIRE * No. 200
10 GOLDEN DIAMOND * First start on the turf but drawn wide and may need easier. 33
11 MUSCULAR CAPTAIN *** Honest and showed last start he is more than capable in this Company. 4.00
12 MINGS MAN ** Took a drop to Class 5 to win but should be competitive from gate 1 with no weight. 8.00
13 EASY DRAGON ** Resuming after close up placing in KSD Company and pay to include somewhere. 20
14 ALLEZ *** Resumed with solid effort and will strip fitter for the run. Each-way. 8.00
Race 4
Selections; 3 KEYSTONE – 9 DAYFLIRT – 2 OLLIE EAGLE – 10 STAR INVINCIBLE
A few of the maidens have had their chances so hard to be confident. KEYSTONE is one of those who has been thereabouts at nine career starts but desperate for a result with the support he gets. He has also drawn wide but normally races handy so expect Nunes to go forward with a little bit of luck needed. Likewise, DAYFLIRT has drawn wide (13) but is due and D Beasley will also likely go forward and give a sight with luck in running. Of the rest with winning hopes, OLLIE THE EAGLE is always a show in this type of race and wins without surprising while STAR INVINCIBLE is in honest form and should figure in the mix. CAPTAIN ROYAL flew home at long odds last start to just miss and has to be considered with M Rodd up.
1 ECLAIR SHADOW * Excuses not to finish closer over the mile last start and this looks too short. 20
2 OLLIE EAGLE *** Last start better than the result and showed why the Poly and 1200m is his caper. Goes close. 4.00
3 KEYSTONE *** Well beaten into fourth last start when supported but previous form has him winning soon and will be handy throughout. 5.00
4 DOUBLE WIN * Race form hopeless but recent trial OK so could improve at long odds. 100
5 NOVA RANGER * Back in trip and drawn wide so easier to ignore. 33
6 JET STRIKER * No. 200
7 BALKAN CHALLENGER * Just battles. 100
8 GREAT SEVEN ** Recent trial OK and race weak enough to include in exotics with market a good guide. 12
9 DAYFLIRT *** Drawn wide but has looked due and gets his chance in this field. 4.00
10 STAR INVINCIBLE *** Twelve start maiden who is in honest form and will be in this a very long way. 4.00
11 CAPTAIN ROYAL *** Grew wings late to just miss over this trip/track last start at odds and have to respect on that effort. 7.00
12 SNOW DANCER * Easier to ignore. 100
13 GOLDEN CHOICE * Gets tongue-tie but hopeless on form. 200
14 MR DREAMMAN * No. 200
Race 5
Selections; 7 LION WAVE – 3 SUPER JOY – 1 RORY – 4 MAJOR GREEN
A very ordinary race with plenty of non-winners, which make it very tough for punters. Case in point is LION WAVE who is yet to win in Singapore in some 27 starts. But he had excuses not to win last start and M Nunes will be hoping t make quick amends in this weak field. SUPER JOY in in very solid form and he also gets his chance with B Vorster from gate 2 a good combination. RORY did know how to win but may have forgotten as it has been over a year since his last victory. The race suits though and he must be considered. The maiden, MAJOR GREEN, and I-SCREAM NOW both can win but you wouldn't want your last dollar riding on either of them.
1 RORY *** Suited back on the Poly and has won seven times at the trip. Will be on the speed throughout. 6.00
2 KING CROSS * Nothing when resuming and have to take on trust. 33
3 SUPER JOY *** In solid form in similar affairs and in this a very long way. 6.00
4 MAJOR GREEN *** Maiden who appreciates being back on the Poly and this is the type of race he can win. 12
5 PROBO CHANDROSO * Race suits but has been struggling of late. 20
6 I-SCREAM NOW *** Struggles to win which is a concern but form has him playing a big part in this finish. 4.00
7 LION WAVE *** Excuses when just missing last start over 1100m and can make amends. 2.50
8 HANDSOME BAB * Resuming and easier to ignore. 33
9 OASIS SPUR * Struggled at recent outings and not for me. 50
10 PURE WHITE ** Thirty seven-start maiden who goes good enough on his day to include in exotics. 12
11 YUE YUAN * No. 200
Race 6
Selections; 1 DEBT COLLECTOR – 7 JUPITER GOLD – 4 NOVA STRIKE – 3 RAFAELLO
While the condition weights always makes these Open races interesting, it's impossible to pick against DEBT COLLECTOR as he warms up for a well earned crack at International competition in Dubai. Whether he is up to that mark is debatable but he is gunning for nine in a row in Singapore so is the obvious choice in this race. The horse that makes it interesting is the gun 3YO, JUPITER GOLD. The Aussie-bred rig has been ultra impressive winning his last three, the most recent a beauty over the mile. Yes, he is tested at this level but will have admirers with just 49kg and he will be doing best work late. Blanket over the rest although NOVA STRIKE and RAFAELLO will keep the pair honest.
1 DEBT COLLECTOR *** Asked to carry a very good horse's weight but won well when resuming in 2017 and hard to hold out. 1.60
2 LAUGHING GRAVY ** Solid without being a threat last start but worth another look in exotics with blinkers removed. 20
3 RAFAELLO ** Up 2kg after running second to Debt Collector last start but keeps them all honest. 12
4 NOVA STRIKE ** Rarely runs a bad race and right in this with 52kg and blinkers off. 8.00
5 ODE TO JOY ** Tested at this level but goes good enough to keep safe at odds. 12
6 MR FANTASTIC * Knows how to win but tested this level. 33
7 JUPITER GOLD *** Star 3YO who looks well placed with 49kg to be more than competitive against the top-weight. 3.50
8 CATCH ME GREAT * Tongue-tie off and need much easier. 200
Race 7
Selections; 8 NOVA POWER – 2 GALLANT HEIGHTS – 1 CARNELIAN – 12 REAL GOODMAN
An average Class 5 field with NOVA POWER the benchmark on recent form and the one to be on. The 4YO is no world-beater but three solid placings since his maiden win suggests he is the one to be on again with Harry Kassim from gate 2 a good combination. He only has to beat the usual suspects in GALLANT HEIGHTS who is always a show in races like this, as is REAL GOODMAN who is suited back on the Poly over this trip. CARNELIAN has shown this type of race is his caper and should also figure in the finish.
1 CARNELIAN *** Maiden win and last start placing both this trip and should figure somewhere. 6.00
2 GALLANT HEIGHTS *** Showed at his last two starts why he is always a winning show in races like this and pay to follow. 4.00
3 NATION THEATRE * Form reads very badly but may improve on the Poly in this Company. 33
4 FUJIN BRIGHT * Struggling. 33
5 DAYUAN * Didn't run on last start over the mile so easier to ignore. 33
6 FORTUNE SPIRIT ** For looks hopeless and drawn wide but race suits and should improve. 20
7 RAMZES * Needs to show more. 33
8 NOVA POWER *** Excuses not to win similar affair last start and the one to beat in this field. 2.00
9 MEGABUCKS * No. 200
10 HAPPY JOY * Not with your money. 100
11 JOHNNY HATES JAZZ * Johnny has lost all form. 50
12 REAL GOODMAN *** Appreciates being back on the Poly and goes close over this trip. 6.00
13 DANNY ** Nine-year-old who will be running on if in the mood. 33
14 GREAT WARRIOR * Struggled at his last two but this is the type of race he could do well in. 33
Race 8
Selections; 1 RETURN TO JUSTICE – 3 TURQUOISE KING – 4 MR CLOONEY – 10 BIG GUARDIAN
A solid Class 4 field to compete over 1700m on the Poly but it might be the top weight, RETURN TO JUSTICE, who is hardest to beat. The 4YO won on the Poly in this Company three starts back and from gate 2 with M Nunes up, he can add a win to the tally of his trainer, Mohd Yusof. TURQUOISE KING also wins without surprising. The 6YO is yet to win in Singapore but just missed last start and showed two back he handles the Poly. MR CLOONEY also looks better suited on the Poly over 1700m and he would give this a big shake although he will need luck from gate 11. Of the rest, BIG GUARDIAN showed he is up to Class 4 Company when placing last start and CHAIRMAN WIND has showed more than enough before breaking his maiden status last start to follow.
1 RETURN TO JUSTICE *** In form, has won on the Poly and hard to beat from gate 2 with Nunes up. 2.60
2 GANNET * Hard to have on form but better last start and may improve again at first start on the Poly. 33
3 TURQUOISE KING *** Just missed last start and showed two back he can handle the Poly so can win. 4.00
4 MR CLOONEY *** Just battled away over 1400m on the turf last start but better suited here and can win. 6.00
5 BARNATO ** Gate a concern and query at the trip but loves the Poly and should improve. 12
6 JOHNNY KONGOS * Struggling since bleeding attack. 100
7 NOVA SPIRIT ** May need a tad easier to win but ran on well over 1200m on the turf last start and better suited here. 12
8 STARPERFECT ** Another who is always some show on the Poly but needs easier to win. 20
9 CHAIRMAN WIND *** Did well to break maiden status last start but this is obviously tougher. 12
10 BIG GUARDIAN *** Showed last start that Class 4 holds no fear and well worth a look. 10
11 SUN FORCE * Not a mile away at his last couple but still needs to show more before considering. 50
12 ANY RUMOUR * Always some hope but wide draw suggests we wait for easier Company. 33
13 PLATOON ** Long time between wins but one to include at value as goes OK on his day. 33
14 MR MIURA * Maiden who needs much easier. 200
Race 9
Selections; 5 FOREVER YOUNG – 1 ROYAL EASTER – 3 GOLD CROWN – 9 PROUD PINOY
As usual a very good Class 4 to finish the night and it might be a promising 3YO in FOREVER YOUNG who gets the chocolates. The American-bred 3YO won well on debut and looked to run in some nice types when in well at the weights in Novice Company last start. But while Class 4 with 53.5kg looks OK on paper, he will need to be good to win and hopefully he is. Plenty of handy Class 4 horses to beat as well with GOLD CRWON always a big show this trip and ROYAL EASTER picks himself after winning first up over 1200m and better suited again over 1400m. CONSTANCE'S SPIRIT, PEACH BOWL and ROYAL GUARD three that can also win on recent form while PROUD PINOY and METTLESOME could run big races at odds.
1 ROYAL EASTER *** Won well when resuming over 1200m and no reason to think he can't win again. 5.00
2 CONSTANCE'S SPIRIT *** In form this campaign and happy to follow. 8.00
3 GOLD CROWN *** Always an each-way chance over this trip and can break a run of outs with upgrade to blinkers. 4.00
4 OLIVER ** Improved at second Singapore start and step up to only winning trip has him under notice. 20
5 FOREVER YOUNG *** Promising 3YO who looks suited over 1400m and can win with gate 1 a bonus. 4.00
6 PEACH BOWL *** Had a few excuses last start and always going to a show in this type of race. 8.00
7 ROYAL GUARD *** Has been racing keenly at two Singapore starts which has been costly but gives every indication he wins when he settles. 10
8 SOUTHERN CHIEF ** Ran on well at first turf start so worth thought stepping up to 1400m. 20
9 PROUD PINOY *** Form better than it reads and could run a very cheeky race at odds. 20
10 METTLESOME *** Improved at odds last start in similar affair when winkers went on and can improve again with upgrade to blinkers. 20
11 PEER GYNT ** Just fair last start but worth some thought on good run two starts back. 33
12 AUSSIE EAGLE * Gets blinkers but may need more than that. 100
13 THANKFULNESS ** First up run was solid and improves stepping up in distance. 20
14 NO SMOKING JEFF * Reassess longer, easier and on the Poly. 100
‹ Previous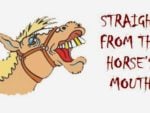 De Kock Expecting 'Good Run'