We reported on 5 March that a horse by the name of President Trump, who had been giving one-time SA champion trainer Justin Snaith a hard time, had been gelded.
President Trump is now fake news according to South African racing's ruling body, reports www.racingpost.com.
Three days after the Racing Post website carried the story that the equine President Trump had been gelded the National Horseracing Authority decided it should act and demand the name be changed –by which time the news, together with trainer Justin Snaith's "vocal, extremely stubborn, unmanageable and arrogant" comments, had gone viral on social media and been taken up by newspapers all over the world.
The NHA's foal registration expert Samantha Dames emailed Snaith Racing to say: "Unfortunately, with Donald Trump being president, the opinion of the NHA is that the name has now become problematic."
Seemingly there had been no such concerns when the NHA originally registered the name and nor when the passport was issued.
"Maybe they had a complaint from the White House," said Snaith's brother Jonathan.
He heads the stable's administration and he then requested that the name be changed to Potus.
By this time, though, Dames's mind was tuned into the Snaith wavelength and she quickly spotted what they were up to. "We unfortunately cannot allow Potus as management feels that name is too controversial," she emailed. As she pointed out, Potus is an acronym for President of the United States.
Snaith then applied for the name Fake News for the horse who has had more publicity than almost any other unraced two-year-old – and apparently this name is going to be approved.
‹ Previous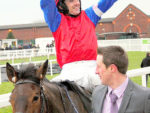 Posters Beware