"No good deed goes unpunished
All helpful urges should be circumvented
No good deed goes unpunished
Sure, I meant well — well, look at what well-meant did!"
– Elphaba, "No Good Deed" from Wicked
There is an expression that no good deed goes unpunished. Depending on which search engine and website one prefers, the definition varies. I particularly enjoyed the definition posted on http://tvtropes.org/, but as it's probably not fit for publication, I'll let you all look that up at your leisure. The cleanest and most informative version is probably the line from the musical Wicked, which I have listed above. It is a little tongue in cheek, but well, sometimes it can feel a little as though well-meaning actions end up being a lot more trouble than one anticipates. Which doesn't mean they're not worth doing, just that one needs a bit of courage, a good sense of humour and a stiff drink comes in handy every now and then (for medicinal purposes, obviously).
In January 2016, emergency calls came out of the Darling area of the Western Cape that a group of horses were in a state of neglect, with particular concern for a grey mare who was included in the group. Local residents alerted members of the racing industry, who called in the help of the NHA. NHA vet Dr Eugene Reynders and local investigating officer Steve Naude paid a visit and then called in the help of the SPCA. It took several months and a good deal of to-ing and fro-ing, but eventually the grey mare named Medoca was surrendered to the Grassy Park SPCA on 23 May 2016. In early June came the news that Medoca had found a new home in Noordhoek with Ronelle Porter and her family.
If only it were that easy
While it would be great to say 'happily ever after' and tie a neat ribbon under the story, things are rarely that easy. Or that boring and uncomplicated. Also, it wouldn't do full justice to all the people and all the work that has gone on behind the scenes and well, it wouldn't make for much of a story.
While Medoca's guardian angels may have taken an unscheduled leave of absence early last year, they seem to be making up for it and pulled all sorts of strings and all sorts of people together to make sure that she was adopted into a lovely and dedicated family to start her on the road back to health.
As Medoca has become something of a minor celebrity, I thought it worth making a bit of fuss of the folk who have got her to where she is today. It is also a fairly sobering lesson in the ups and downs of rehabilitating a severely compromised individual and just what it takes (and how much it costs – in time, emotion and effort as well as cold, hard cash) to get them back to where they should be.
A lot of work
Thoroughbreds can be pretty special needs even when they're healthy. One that has been through the wringer requires a lot of time, patience and determination. Externally Medoca was infested with lice, had a number of superficial wounds that needed attending to and after everything she'd been through, she was not at all sure that people were really such a good idea. This meant she required a certain amount of patience and forgiveness when it came to being handled and settling her into her new environment. She had also acquired the bad habit of windsucking – whether she's always windsucked or whether she acquired the habit thanks to her stressful ordeal will probably never be known, but it has left her front teeth fairly damaged. Lastly, although tests showed her internal organs to be functional and healthy, she had a severe case of ulcers and of course modern instruments can only reach so far, so the extent of the internal damage done will probably never be fully understood.
Racing folk are familiar with ulcer treatments, but in severe cases like this, it requires an intensive course of medication including Omepracote and Ulsanic, both of which require management in their administration. 'Team Medoca' have also seen good results by adding Aloe to her diet. Medoca has needed careful and close monitoring as her system adapted to new feed, new feeding regimes and to recover from worm burdens and internal parasites. It has been a long and laborious process that needed to be followed step by careful step and while rewarding, it has also been tough on those around her.
Fortunately, thanks to the care lavished on her by Ronelle and her daughter Nicole, Medoca responded well to her early treatment. As her body healed and her contours filled out and softened, so did her spirit. She is a lot brighter and more alert as well as being a lot easier and more polite to handle. While she is still very protective of her food, she is happy to see people and loves attention. She made such good progress that late last year she could start being ridden again.
As in all other spheres of life, people change, circumstances change and sometimes life just doesn't work out the way one expects. Which isn't necessarily a bad thing and often comes with new and interesting opportunities. In Medoca's case, it was hoped that she might make a nice riding horse for Nicole, but as Nicole was not experienced enough to start her off, it allowed a new person to enter Medoca's life.
A little outside the box
Whether one sets store by these things or not, it turns out that a well respected local animal communicator had a session with Medoca while she was at the SPCA and noted in her report that Medoca mentioned a young blonde girl. It seems she may have found that girl in Danni Kuttel.
Danni is a terrific young girl from the local community, with an impressive CV including working in both the racing industry as well in the local riding community and she was drafted in to help exercise Medoca. It didn't take too long for Danni to fall in love with Medoca and Medoca with her. After working together for a few months, Medoca transferred to Danni's yard in January to continue her training. The yard is a little way across Noordhoek, but is still close enough for the Porters to visit regularly. It is in a lovely, leafy part of Noordhoek, within easy walking distance of the beach. Danni and Medoca take lots of relaxing beach hacks and have even attended their first few shows, with Danni particularly excited about Medoca's jumping prowess.  As Medoca has made good progress, she recently returned to the Porters.
Although Medoca has come a very long way from that field in Darling, it is still less than a year into her rehabilitation and sometimes one has to take it day by day. There are still ups and downs and a number of recent colic episodes have shown that she is still battling with ulcers and will require another intensive course of treatment to try and knock it on the head. But as ever, her team are right behind her and determined to see her through.
Medoca's Aloe
Because of the good results they have had with the Aloe juice, 'Team Medoca' are looking into producing organic Aloe juice with Medoca's name and story attached. As it has proved to be so beneficial to her, they hope that it may help other horses as well.
It has been a real labour of love and has drawn together people from all across the horsey spectrum – from her breeder, to the NHA to the SPCA, to Medoca's team of vets, to interested / concerned members of the press and public. Everyone has joined together and formed a circle to help get Medoca to safety and it has been incredible to watch and to be a small part of.
And I think that's the relevant bit here. Horses have lots of different stories and for the most part, we see only a fraction of them. Some see the breeding side and early years, others the handling and sales prep, others the breaking in and pre-training and then there's the racing portion of their lives. Even after all this, the horse is likely still only 3 or 4 years old. While we may only see tiny segments of their lives, it is important to remember that the largest portion is yet to be lived and only starts once they leave racing. A lot can and usually does happen and there are no – or at least very few – neat, easy 'and off they rode into the sunset, the end's.
However, Medoca has a wonderful network of people behind and around her. Let's hope she gets the happily ever after she so deserves.
‹ Previous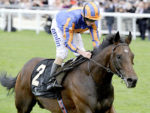 No Waiting Around!