Marketing Executive Graeme Hawkins has conceded that Gold Circle had no excuses for the circumstances that led to jockeys lodging a protest on safety grounds just as the runners were being loaded for the first race at Greyville on Sunday.
The first race at the city venue was delayed over a half hour past the scheduled off-time after Anthony Delpech and his colleagues were seen pointing out concerns in front of the stalls to starting officials.
Hawkins, who was quick to respond to the Sporting Post's enquiries,  explained that the width of the track after installing the 6m false rail did not allow for 14 runners to be safely despatched from the 1200m starting stalls.
"The jockeys justifiably lodged a protest in this regard. Our local operators' conditions make allowance for the field to be reduced in circumstances such as these. The process took much longer than it should have, as we undertook a round-robin amongst the trainers for 'volunteers' and after much deliberation Dean Kannemeyer and Paul Lafferty came to the party and withdrew their runners," he said.
"We have had an internal inquiry with the Track Managers to ensure that this embarrassing situation does not arise again – like I said, we are making no excuses," added the vastly experienced racing executive.
Senior jockey Bernard Fayd'herbe apologised 'on behalf of all the jockeys', after riding a hat-trick later in the day.
"This was embarassing. We hope that whoever is responsible gets a good smashing on the knuckles for it," quipped the Cape based heavyweight.
The Stipes Report was brief in its reference to the race:
There was a delay to the start of the 1st Race as a result of safety concerns regarding the 14 horse field and the inside/false rail being positioned at 6 metres. Discussions between Gold Circle, riders, trainers and the Stipendiary Board took place and it was agreed that the field size had to be reduced. Horses FREDDIE FLINT (*A Arries) and OLIGARCH (B Fayd'herbe) were withdrawn.
‹ Previous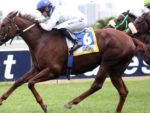 Cape Clean Sweep