The R40k fine imposed on trainer Paul Gadsby for an indiscretion by one of his grooms, has been met with consternation by the racing fraternity, especially in light of the fact that Gadsby followed all legal procedures in disciplining the transgressor.
Click here for the background
This obviously did not impress the National Horseracing Authority (NHA) enquiry board who imposed the fine reasoning that even though Gadsby was not even on the racecourse when the incident occurred, he was still responsible for the actions of his employee. Gadsby has since appealed against the finding and the fine.
Robert Mauvis, former Chairman of Gold Circle, although disagreeing with the findings of the inquiry board, said it was time that all role-players got together in an effort to educate the grooms.
"While I was chairman of Gold Circle it was one of my plans to start some sort of groom's school.
"Training racehorses is one of the most difficult jobs there is. They all love their horses but it is time that grooms undergo some sort of formal education," he said.
He suggested that every training centre have a groom's school where someone with the knowledge is able to talk to the grooms three or four times a week to educate them on how to treat and look after horses properly.
"These grooms look after millions of rands worth of horseflesh and many of them have never even dealt with horses before being employed," reasoned Mauvis.
"This is a serious matter and grooms must know that it is totally wrong to hit an animal, but they need to be taught the correct way to treat the horses.
"Now is the time for all in racing to stand together and the NHA should help in this regard," he concluded.
www.goldcircle.co.za
‹ Previous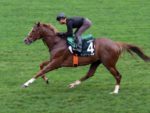 Go Big On Japan