The Western Cape racing community was left reeling after two Thoroughbreds were stolen from a Philippi rehoming centre on Wednesday, 12th April.
Maximum Flo and 2014 Gold Cup winner Wavin' Flag were removed from Jenny Millington's THRC programme on the old Hyjo farm in Philippi.
With the news shared far and wide via social media, a cross-section of the local equestrian community pulled together along with the SPCA and SAPS stock theft unit to launch a wide-scale search. With a large bush racing meeting allegedly scheduled for the Cape Flats over Easter weekend, fears ran high that the horses had been stolen for illicit racing.
Those fears were confirmed when the horses were found on Friday, 14th April.  An exhausted and emotional Jenny Millington explained, "The horses were located with the help of a drone and found in an area of bush in the Mitchells Plain area.  They weren't even tied up, but were just too tired and sore to move.  Flag could still walk onto the box by himself, but we needed about 10 people to carry Max onto the box and it was clear he was not in a good way."
The horses were returned home to THRC where they received veterinary attention.  "They'd obviously been galloped into the ground," says Jenny.  "Their mouths had had wires through them and were bleeding and you could see straightaway that Max's leg did not look good."  X-rays revealed that Maximum Flo had sustained serious injuries, including fracturing his sesamoids beyond repair and due to the extent of his injuries, the decision was made to euthanise him humanely.  "He didn't stop eating the whole time he was back and it broke all our hearts to have to put him to sleep, but it was the right thing to do."
"Flag is very stiff and sore and his legs are very swollen," continued Jenny, "but he is as comfortable as possible.  Snaith Racing have kindly lent us some ice boots which have been a great help."
Jenny expressed her gratitude to everyone that assisted.  "I just want to say thank you to everybody that came.  I couldn't have done this without their help.  The support has been absolutely mind-blowing."
‹ Previous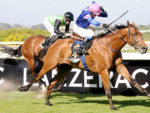 If The July Was Run Today…