At a meeting of the Thoroughbred Breeders' Association (TBA) council, held on the 23rd of May, and following the end of term of office of Mrs Susan Rowett, the council unanimously elected Mr Lee Scribante as the TBA Chairman.
A passionate racehorse owner and breeder, based at his Kwazulu-Natal Piemonte Stud, Lee brings with him a wealth of knowledge, business acumen and solid leadership.
The current TBA council, including Mr Lee Scribante, consists of Mr Eugene Freeman (Vice-Chairman), Mr Rennie Price, Mr Marc Greene and Mr Warwick Render.
New CEO
In order to clearly define the role of the TBA as a breeder members' association, promoting and looking after the interests of all breeders of South African Thoroughbreds, Catherine Hartley has been appointed by the council as the CEO, responsible for all Association matters not only breed affairs, reporting directly to the council.
For queries or further information, please contact Catherine on 0836401155 or [email protected]
‹ Previous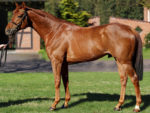 Seeing Stars!