Due to the catastrophic drought currently being experienced in the Western Cape, the Winter course was unable to be adequately prepared for the race meeting at Kenilworth on Sunday 21 May 2017, resulting in the Summer course being utilised.

In a press release issued by Phumelela Gaming & Leisure Limited on Monday 22 May 2017, it was stated that while the Operators and National Horseracing Authority were apprised of developments, as were the National Racing Bureau who duly advertised same, certain sectors of the general public were regrettably uninformed due to an unacceptable breakdown in communication.
Kenilworth Racing deeply regrets and profusely apologises for this unfortunate oversight and advises that disciplinary action will be taken against those responsible.
The Winter Course will be used this Saturday, 27 May 2017.
Ed – The Western Cape government today declared the entire province a disaster area in order to deal with the ongoing drought
‹ Previous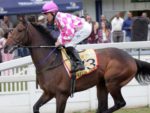 Stolen Horses – Investigation Concluded