Oscar Foulkes is the son of doyenne of Normandy Stud, Veronica Foulkes. His face will be familiar to racing fans from when he did some presenting back in the 90's as well as his role at the Form Organisation. Oscar currently features at Kenilworth Racecourse's RA room and Garrett Bar, which is serviced by his family catering company, Dish Food & Social.
More importantly, along with mum Veronica, he is part owner of Tsogo Sun runner, Sergeant Hardy and the two share a special connection.
Breathing impairment
Sergeant Hardy was bred by Veronica Foulkes' Normandy Stud and led through the ring of the 2015 CTS Cape Premier Yearling Sale. "My younger brother bought him, then he was found to have a paralysed right vocal chord, which is fairly unusual –it's usually the left one. They don't know for certain what causes the vocal chord paralysis, possibly an IV nicks the nerve that runs in the same place. Then we sent him to a Ready To Run sale. We had him scoped – we didn't want people to find out afterwards that there was a problem – and put a notice on the door. We ended up buying him back at R70k."
Poignantly, Sergeant Hardy's affliction mirrored Oscar's own. Oscar has been battling throat cancer on and off for a number of years. He had his first op in 2006 after steadily losing his voice over the preceding years. "The cancer that I have. Had," he corrects himself, "is not something that was ever going to kill me. The worst was that I could end up with a hole in my throat." However, the treatments have taken their toll, leaving Oscar with a soft, high-pitched voice. "I don't have an issue with it. I'm quite used to being called 'M'am' on the phone," he says good-naturedly. "For me it's just fantastic to be able to make a phone call. There were long periods over the last ten years when I haven't been able to make phone calls for months on end or when people have rung and I've picked up and they didn't know I had answered. Worse was going to someone's house and ringing the doorbell and not being able to announce who you are on the intercom. Having a high pitched voice is the least of my worries."
It has been a long journey, but it is one he is winning. And in celebration and affirmation, Oscar decided to enter for this year's ABSA Cape Epic mountain bike race. But that was all the way back in 2015.
ABSA Cape Epic
Why the Epic? "It's something I've always been curious about," he muses. "You see these things and know it's a completely different level of commitment. Something like Wines2Whales you can do if you're relatively fit, but Epic takes 6 months to a year to prepare for. We are running the Val de Vie hospitality and when I found out that the race finished at Val de Vie this year, I decided it was a sign. When I said I would like an entry back in 2015, I didn't even know what treatment was awaiting me, so I'd already committed before I knew what was coming my way."
"I've had multiple surgeries to remove tumours, but they've kept coming back." Eventually he was forced to have a course of radiation therapy, which finished a little over a year ago. "I didn't eat solid food until last April. I had a diet of soup and morphine – it was the most incredible pain I've ever experienced. My weight dropped to 66kgs. To start from that and then get exercising again was a challenge."
The Cape Epic mountain bike race is aptly named, taking place over – and largely up – 691 km of Western Cape countryside. Their website states the accumulated vertical gain over the eight days is 15,400m. For someone recovering from cancer treatment it seems particularly ambitious, particularly as the repeated surgeries had left him with impaired breathing due to scar tissue that had built up on his vocal chords. "It was great to have a goal like that. I literally could hardly ride around the block – that's how depleted my body was."
Oscar met his riding partner, Piet Viljoen, thanks to a blog post titled 'Will you be my Epic Valentine?' in February 2016. "Friends connected us. Piet is a value investor and it took a big stretch to look at me in my state and say in a year's time we'll be riding Epic together, but his commitment is more on the level of 'I do' than 'yes'. Even though he's a lot stronger, he's been a support for me as well and helped me get through, building my strength. We're an odd combination, but it works."
Hoarse Power
The two competed as team 'Sergeant Hardy', with their racing kit made up in Veronica's racing colours and sporting the moniker 'Hoarse Power' on their cycling shorts. Competing in the Grand Masters division, they finished the course in 47:00.31,3 placing 27th in their category. "Many people take on big physical endurance challenges – I'm by no means the first person to do it, or the first person to do it with difficulty. A few years ago a team completed and between them they had 3 arms and 3 legs. I actually spent quite a lot of Epic riding in close proximity to Reuben van Niekerk (the one-legged rider) who has now completed 4 Epics. What I'm overcoming is minimal compared with that. It's one of the most magnificent things about the Epic. Apart from some male madness, there's just this dogged determination that come hell or high water, nothing is going to stop you finishing what you started out to do."
There is an interesting postscript to Oscar's Epic. His surgeon, Professor Fagan, suggested a procedure to repair the obstruction caused by the scar tissue, but due to the recovery time, Oscar elected to postpone until after the Epic. However, the day after he finished, he rang for an appointment and surgery was scheduled for that Thursday. The before and after photos and the results were arresting. "I'd ridden Epic on something like 50% breathing capacity. It's not the same as breathing through a straw, but you get the picture. Even while lying in the hospital bed, my breathing felt easier."
"In my head, I had lost 10% to 20% breathing capacity. Sometimes it's better not to know – if I'd known that the impediment was more like 50%, perhaps I wouldn't even have started the Epic process."
Last year, in a letter of fatherly guidance, he wrote to his son: 'We have powers of endurance that are far in excess of what we might imagine.' "Little did I know the circumstances under which I would experience that for myself."
"Having experienced what it's like to try and do these things without being able to breathe properly, I am totally in awe of what Sergeant Hardy does. We schlepped along towards the middle / back of the field. He's lost 30% of his breathing capacity and is one of the top-rated sprinters in the country."
And so back to the (horse) racing
Sergeant Hardy is in training with Justin Snaith. "He was a November foal, so we ran him as an early 2yo just to see how he would respond," explains Oscar. He won first time out, over 800m at Kenilworth on 27 December 2015. By 4,75 lengths. "We knew it was worth persevering with him and the rest is history," shrugs Oscar.
Sergeant Hardy won second time out as well, this time in the 1000m Listed Sun Juvenile Stakes on Met day 2016. He was 5 lengths 4th to Attenborough in the 1200m Listed Somerset Stakes and then turned the tables in the Gr3 Cape Nursery 3 weeks later, beating Attenborough by 1,5 lengths. He underlined the achievement by beating a similar field over 1200m at Durbanville on soft going by half a length before going down less than a length to the wonderful Safe Harbour in the 2016 R2,5 million Lanzerac Ready To Run Stakes. He won the Non Black Type Need For Speed Sprint on Christmas eve 2016 and then lined up for the 20 horse field $500k CTS Sprint on Sun Met day 2017.
"There's just something about him," says Oscar. "He is a big, magnificent beast. We were obviously very disappointed about his CTS run, because his form leading up to it had been sensational."
Shared experience
Sharing the experience with his mother has also made it special, particularly as Sergeant Hardy is a Normandy homebred. "I worked out some stats recently that you get roughly one Gr1 winner for every 500 foals. On this basis, if you look at the number of foals my mother breeds every year, she has outperformed the breed average by a factor of 9 or 10. She doesn't breed from expensive bloodstock and most are home-breds, but she has produced the likes of Winter Solstice, Tatler, Bravura and Mother Russia. That's a pretty impressive track record."
"I grew up with it, but then spent 10-15 years more involved with wine than racing. I've had the opportunity of rekindling that over the last 5 years and I've loved it."
"A lot happens at the stud and even though it's her operation, we share a lot of the planning and strategising, so it's great to have the opportunity to race a horse together. With my brother passing away in 2015 and my on-going brushes with cancer, it's been a very emotional time for her and I've just treasured the time and opportunity to share these things with her."
Sergeant Hardy transferred to Durban with the Snaith's Champion Season string. He had a good pipe-opener in a 1100m Pinnacle Stakes at Scottsville in mid April, finishing 1.75 lengths second to London Call in very soft going. He now lines up for this weekend's Tsogo Sun Sprint.
In a horse race, usually it is about who passes the post first. But just occasionally, it really is the taking part that matters most.
‹ Previous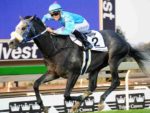 July Scratching