TAB plans to offer minimum-amount guaranteed Pick 6 pools on major racedays in future and kicks off with a R4.5-million guaranteed pool on the Champions Day race meeting at Turffontein this Saturday.
Champions Day is one of the "Big 4" race meetings on the SA calendar – it's Joburg's richest raceday and features Jozi's richest race in the R4-million Premier's Champions Challenge.
The Pick 6 pool on the meeting starts with a R1.1-million carryover and should soar way over the R5-million mark (TAB's official estimate is R5.1 million).
But to heighten interest and awareness, and to satisfy the requests of many customers, TAB is guaranteeing a total net pool of R4.5 million up front.
"Many of our customers have said that only knowing the approximate pool a few minutes before the off hampers their play," said TAB boss Vee Moodley.
"These customers tend to base the amount they spend on the Pick 6 on the actual pool size, not our estimates, and to encourage them to spend more we will guarantee minimum pool levels for major race meetings."
Should a pool fail to reach the guaranteed amount, TAB will make up the difference subject to the condition that all commingling partners are able to bet into the pool as scheduled.
"Obviously if a local or international commingling partner is prevented from betting into the pool for whatever reason, for example a loss of connectivity, the guarantee will fall away. Once the pool exceeds the guaranteed amount, the actual pool total will be displayed and paid out as normal," said Moodley.
TAB is also guaranteeing a minimum R2.7-million Pick 6 pool for the Daisy Guineas meeting at Greyville this Sunday, when the pool will start with a R750,000 carryover.
There's a bumper TAB betting menu for Champions Day with carryovers into several pools in addition to the Pick 6.
Details are:
Race 1: Normal range of TAB bets
Race 2: BiPot ONE Leg 1 – R25,246 caarryover, likely pool R550,000
Race 3: PA Leg 1 – likely pool R1,250,000
Race 4: Pick 6 MEGAPOOL Leg 1 – R1,100,000 carryover, GUARANTEED pool R4,500,000 (estimated pool R5.1 million plus)
Race 5: Jackpot ONE Leg 1 – likely pool R1,000,000
Race 6: PA Blitz Leg 1 – likely pool R100,000
Race 7: BiPot TWO Leg 1 – likely pool R150,000
Race 8: Normal range of TAB bets
Race 9: Premier's Champions Challenge – Jackpot TWO Leg 1 – R40,000 carryover, likely pool R750,000. Also M6 for Soccer GG
Race 10: Normal range of TAB bets
Race 11: Jackpot Quickmix Leg 1 – R22,950 carryover, likely pool R200,000
Race 12: Normal range of TAB bets
* TAB betting on the meeting opens Wednesday 3 May.
‹ Previous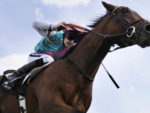 Jooste's Flying Frankel