Trainer Coenie de Beer surprised the racing world when he saddled his four-year-old gelding Talktothestars, unshod, to win the Gr1 Tsogo Sun Sprint over 1200m at Scottsville's Sprint Festival last year.
Ridden by Piere Strydom, he romped home ahead of African Ruler and Exelero. He faces Exelero again in the Tsogo Sun Sprint on Saturday, giving the bottom weight an extra kilo.
Racing unshod is not uncommon, but racing unshod in a Gr1 is unusual to say the least but De Beer commented after the race last year: "There shouldn't be such a fuss about a horse racing without shoes. Traditionally this is the way they raced, unshod or at times fitted with steel shoes.  In the days before shoe declarations I'd say the majority of trainers raced their runners in steel shoes, then some smarty-pants and a few bored punters came up with inventive stories around alumites and they changed people's perceptions.
"There are racing fans who believe horses are only capable of winning when they are declared to race with alumites. This is nonsense, they can also win in steels or without shoes altogether. Trainers have exploited this situation at times, but for me it's about getting a horse fit and ready to win. I don't consider shoes a factor, even less so recently."
However, De Beer has returned to the norm. Talktothestars has raced in alumites at his last two starts and has been declared to run in them again on Saturday where he is out to defend his crown.
After last year's victory he was rated the top horse in the country and was deservedly voted Equus Champion Sprinter. Not all has gone his way this term and many have written him off; so to the handicappers who have dropped him 10 pounds in the ratings from 123 to Saturday's 113.
No matter the rating drop, he still heads the handicap on Saturday but there were signs that he is returning to his best form as he rattled home to run hot favourite Carry On Alice out of second place behind Rafeef in the recent Gr1 Computaform Sprint. He finished second to Carry On Alice in that same race last year before winning at Scottsville and those that believe that a horse's form is cyclical will be having a dab come Saturday.
"He's a horse that doesn't take a lot of work," said De Beer. He knows what to do and he does it, he conditions himself." This time he won't be 'barefoot'.
‹ Previous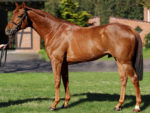 Seeing Stars!