Drakenstein sire Duke Of Marmalade's warrior son Big Orange was the toast of Royal Ascot on Thursday when he came again and repelled the late thrust of defending champion Order Of St George to win the £393,480 Gr1 Gold Cup run over a stamina sapping 4000m for his sixth stakes win.
The injured Frankie Dettori's replacement James Doyle rode a superb race on the Michael Bell trained 6yo gelding, who gives a new meaning of glamour to staying contests! The 5/1 shot came from behind on the final straight to beat favourite Order Of St George by a nose on the line.
Doyle only sat on Big Orange's back on Wednesday and cantered him over a short stretch. Trainer Michael Bell had felt that the big, tall, long jockey should get to know the big, tall, long gelding – and the plan panned out sweetly 24 hours later.
One of the most popular horses currently in training in the UK, Big Orange, won the Gr3 Matchbook Henry II Stakes at Sandown last month – after which Dettori labelled him a top three for the Gold Cup on the Ascot fast ground.
His victories include back to back successes in both the Gr2 Qatar Goodwood Cup (now a Gr1 contest) and Gr2 Princess Of Wales's Arqana Racing Club Stakes.
Big Orange has now won nine races and banked over £1,2 million in stakes. His five time Gr1 winning sire Duke Of Marmalade has more than 50 stakes horses to his credit.
Duke Of Marmalade has two lots on the Sibaya KZN Yearling Sale on Thursday 29 and Friday 30 June.
No race quite encapsulates the Royal meeting as much as the Gold Cup. Of course, since Master Jackey won the first running in 1807, with 6st 12lb on his back, the race's fortunes have ebbed and flowed with the preference of thoroughbred breeders for speed or stamina.
But on the back of Yeats's record four successes between 2006 and 2009, nothing has contributed to its current popularity quite like Estimate's victory for the Queen in 2013 when, as the filly crossed the line, the sport's most famous patron and racecourse owner briefly let her guard down in a spontaneous eruption of joy.
‹ Previous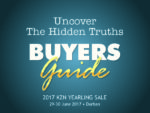 Buyer's Guide – Compulsory Reading!