The Vodacom Durban July selection panel will face a tough task when they sit down on Monday to make the final decision from 31 entries on the composition of the starting line-up for Africa's greatest horseracing event.
It is a condition of the Vodacom Durban July that Gold Circle reserves the right to exclude any horse, which, in its opinion, does not warrant inclusion in the race. In addition, they have the right to exclude any horse at Declaration Stage, and thus to unilaterally decide on the final field for the race.

The selection panel is made up of Roger Smith (Handicapper), Matthew Lips (Handicapper), Raf Sheik (Gold Circle Racing Executive) and Graeme Hawkins (Gold Circle Marketing Executive).
The panel's deliberation and decision making is overseen by Neil Butcher, Chairman of the Gold Circle Racing Committee.
When approached for clarity as to the workings of the panel, Gold Circle spokesman Graeme Hawkins confirmed that there was always an attempt to achieve consensus rather than having to go for a vote, which he said would only be used as a 'last resort'.
As to the impact of lobbying and external influences, Hawkins was adamant that the panel makes up its own mind without interference from outside.
When taxed on whether any betting patterns could influence the thinking and decision making, he said: "'The betting is clearly a guide as to how the racing public are thinking and serves as a point of reference for our debate. However, the betting – and betting moves – is not a defining criteria."
Key Dates:
Final Field and Draw: Announcement of the Final Field and Barrier Draws will take place on Tuesday, 20 June 2017
Public Gallops:  7am at Greyville Racecourse, Thursday, 22 June 2017
Weights – 31 are left in
VODACOM DURBAN JULY (Grade 1)
0
Captain America

Scratched

(6G)
61.5
118
A
Brett Crawford
0
Deo Juvente

Scratched

(5G)
60
115
A
Geoff Woodruff
0
Marinaresco

Accepted

(4G)
60
115
BA
Candice Bass-Robinson
0
French Navy

Accepted

(5G)
57.5
110
AT
Sean Tarry
0
Master Sabina

Accepted

(7G)
57.5
110
AT
Justin Snaith
0
$Hat Puntano (ARG)

Scratched

(3C)
57
113
A
Mike Azzie
0
Bela-Bela

Accepted

(4F)
57
109
A
Justin Snaith
0
Brazuca (AUS)

Accepted

(4C)
56.5
108
A
Johan Janse van Vuuren
0
Nother Russia

Scratched

(4F)
56.5
108
A
Mike de Kock
0
Krambambuli

Accepted

(5G)
56
107
A
Justin Snaith
0
Mac De Lago (AUS)

Scratched

(5G)
56
107
CAT
Weiho Marwing
0
Saratoga Dancer

Accepted

(5G)
56
107
A
Duncan Howells
0
The Conglomerate (AUS)

Accepted

(5G)
56
107
AT
Joey Ramsden
0
It's My Turn

Accepted

(4G)
55.5
106
A
Justin Snaith
0
Ten Gun Salute (AUS)

Accepted

(4G)
55.5
106
AT
Duncan Howells
0
Nightingale

Accepted

(4F)
55
105
A
Candice Bass-Robinson
0
Black Arthur

Accepted

(4G)
54.5
104
A
Justin Snaith
0
Edict Of Nantes

Accepted

(3C)
54
107
A
Brett Crawford
0
Star Express

Scratched

(4F)
54
103
A
Justin Snaith
0
Witchcraft

Accepted

(4F)
54
103
AT
Sean Tarry
0
Al Sahem

Accepted

(3C)
53.5
106
AT
Sean Tarry
0
Heavenly Blue (AUS)

Scratched

(3C)
53.5
106
A
Mike de Kock
0
Liege

Accepted

(4G)
53.5
102
AT
Sean Tarry
0
$Mr Winsome
(4G)
53.5
102
A
Dean Kannemeyer
0
Africa Rising

Scratched

(3G)
53
101
A
Sean Tarry
0
Celtic Captain

Scratched

(4G)
53
101
A
Gareth van Zyl
0
Elusive Silva

Accepted

(4G)
53
101
A
Justin Snaith
0
Nebula

Accepted

(4G)
53
101
A
Brett Crawford
0
Pagoda

Accepted

(3G)
53
101
BA
Geoff Woodruff
0
Horizon

Accepted

(3C)
53
100
A
Candice Bass-Robinson
0
Master Switch

Accepted

(5G)
53
100
AT
Geoff Woodruff
0
Prince Of Wales

Scratched

(4G)
53
100
A
Justin Snaith
0
Tilbury Fort

Accepted

(3C)
53
100
AT
Sean Tarry
0
Banner Hill

Accepted

(4G)
53
99
A
Glen Kotzen
0
Zodiac Ruler (AUS)

Scratched

(3G)
53
99
A
Justin Snaith
0
Furiosa (AUS)

Scratched

(3G)
53
98
AT
Sean Tarry
0
Copper Force

Scratched

(3G)
53
96
A
Justin Snaith
0
Royal Badge

Accepted

(4G)
53
95
A
Adam Marcus
0
Samurai Blade (AUS)

Scratched

(4G)
53
95
AT
Sean Tarry
0
$Coral Fever
(4G)
53
93
A
Robbie Sage
0
Fort Meyers

Scratched

(5G)
53
91
BAT
Sean Tarry
0
The Elmo Effect

Accepted

(5G)
53
91
BA
Gary Alexander
0
Rocketball

Scratched

(4G)
53
90
AT
Gavin van Zyl
0
Secret Captain

Scratched

(3C)
53
89
A
Duncan Howells
0
Macduff (AUS)

Accepted

(4G)
53
88
A
Joey Ramsden
0
Jubilee Line

Scratched

(4G)
53
87
A
Mike de Kock
0
Bold Viking

Scratched

(3G)
53
86
BAT
Sean Tarry
0
Copper Pot

Scratched

(3C)
53
85
AT
Sean Tarry
0
Hamaan

Scratched

(3G)
53
78
AT
Sean Tarry
0
Fort Ember

Scratched

(4F)
52.5
100
A
Paul Peter
0
Juxtapose

Scratched

(4F)
52.5
100
A
Stanley Ferreira
0
Silver Mountain

Scratched

(4F)
52.5
100
A
Candice Bass-Robinson
0
Safe Harbour

Accepted

(3F)
52
103
AT
Sean Tarry
0
Orchid Island

Scratched

(3F)
52
101
A
Mike de Kock
0
Trophy Wife

Accepted

(5M)
52
99
A
Sean Tarry
0
Bi Pot

Scratched

(3F)
52
98
A
Geoff Woodruff
0
Girl On The Run

Accepted

(4F)
52
98
A
Johan Janse van Vuuren
0
Belle Rose

Scratched

(3F)
52
97
A
Mike de Kock
0
Dawn Calling

Scratched

(3F)
52
95
A
Duncan Howells
0
Smiling Blue Eyes

Scratched

(3F)
52
95
AT
Sean Tarry
0
Heaps Of Fun

Scratched

(4F)
52
93
AT
Sean Tarry
(61)

‹ Previous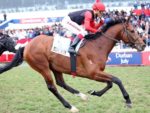 Newsflash: Durban July Field Update