Current apprentice log leader Lyle Hewitson has defied the odds and will be back at the races this Friday, pending the formality of a final sign off from his doctor and orthopaedic surgeon.
Lyle suffered a broken collar bone and mild concussion following a fall from Gitano Giant at Fairview racecourse in PE on Saturday, 13 May 2017. Although his hard work earlier in the season has earned him an unassailable lead on the Apprentice log, his main priority has been to be declared fit to ride for this year's Vodacom Durban July.
Determined
Employing the same single-minded determination that has seen him make his way from the work rider ranks to one of the most successful apprentices on South African record, Lyle has followed a strict regime of hyperbaric treatments as well as chiropractic and physiotherapy in a bid to get back in the saddle as fast as possible.
It has been a runaway success. A broken bone typically takes 6 weeks to mend, which would have taken him to 24 June 2017. However, in order to build in some time to get his race fitness back for the July, Lyle needed a bit more of a window and has managed to shave a week off his recovery period.
Following a consultation with his radiologist last Wednesday, Lyle's latest set of X-rays are looking so positive that he has been given the go ahead to go back to riding. He just needs a final report letter from his doctor and orthopaedic surgeon on Monday to satisfy his insurance requirements and will be back at the races this Friday. "I was at my chiropractor on Thursday and he was working around my shoulder and back and said he couldn't not believe the amount of movement I had recovered in such a short time." Charl du Plooy of Hyperbaric Systems South Africa (Biobarica) at the Rivonia Medical and Sports Centre has sponsored all of Lyle's hyperbaric treatments during his recovery and is also thrilled that the team effort has paid off so handsomely. "Obviously he believes in the machine, so the timeline is what he expected, but we are all very satisfied with the results," said Lyle.
Lyle has confirmed that he will be lining up for this year's Vodacom Durban July, although his mount is still to be decided.
‹ Previous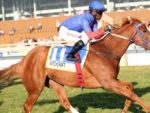 Double The Fun