The National Horseracing Authority confirms that at an Inquiry held in Durban on 5 June 2017, Trainer, Mr R A Hill was charged with a contravention of Rule 73.2.4, in that he was the trainer of the horse STRUCTURED REPLY from which a specimen was taken after it had participated in and won the 1st Race at Greyville Racecourse on 25 November 2016.
The specimen disclosed upon analysis the presence of Dexamethasone, a prohibited substance in terms of the Rules of The National Horseracing Authority.
Mr Hill pleaded guilty to and was found guilty of the charge.  After considering all the evidence the Inquiry Board imposed a fine of R30 000.
Furthermore, in terms of Rule 72.3.2, STRUCTURED REPLY is disqualified from the abovementioned race and the provisions of Rule 67.7.8 shall apply mutatis mutandis.
‹ Previous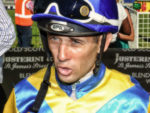 Jockeys Know